We passed another week in Portsmouth. Portsmouth is the only place to clear in and out of Dominica, and while there are a few anchorages down the coast, we decided the allure of the cruising community was too good to pass up.
On the 16th, Saturday, David and I went to the market in the morning, to stock up on produce. In the evening, we went with Clair and Magoe from Macario to have pizza at a place called Champs in Picard. It's great for the cruisers, they will send a car to pick you up if you call. It's popular with the college crowd, and the pizza was good.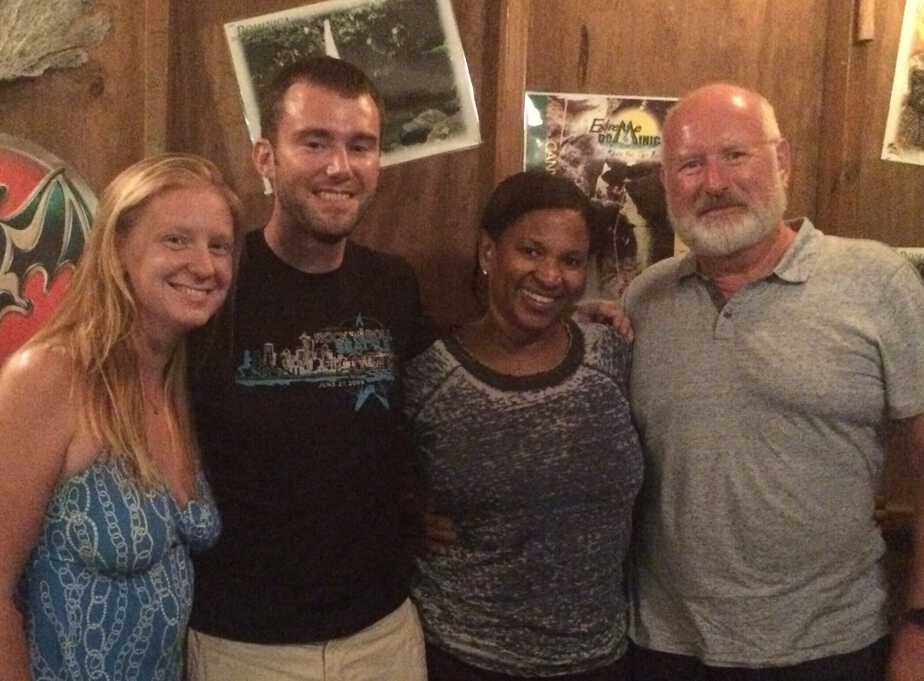 The next few days we spent having quiet time around the boat. What does that mean? Well, for David, boat projects. He fixed our heat exchanger on the water heater, and our shower pump. I spent time reading and doing a bit of research. We had three big things to prepare for – our haul out in Grenada (scheduled for Feb 10th), our Panama Canal passage (early March?), and then our next trip to the US (in June).
On Monday, our friends Lisa and Nils on S/V Aggressive arrived into Portsmouth. We met them in St Martin, although I had been talking to Lisa on Facebook for months before that and we just kept missing them in person. Tuesday Lisa and Nils came over after dinner to have drinks and plentiful conversation with us!
On the 20th, I was feeling a little worse for war after all the drinks of the night before – ahem – so we canceled hiking. But the day was not without adventure. We had a Lagoon catamaran anchor in front of us. While the crew was ashore, their anchor started to drag – quickly! While they didn't hit us, they very quickly dragged passed us and by the time David and another gentleman got onboard from the dinghy, the boat was over an occupied mooring – and dangerously close to its occupants; a FP Mahe charter boat that only had a woman aboard! Fortunately David and the other captain were able to get the engines started, up anchor, and reset the anchor an appropriate distance away from us – with lots of scope out! It's funny how things like this happen in anchorages. Lots of heads pop up and people assist or keep an eye on things from their decks.
After getting David back – tempted as he was to commandeer the boat – Lisa came over and we went for a snorkel. Lisa and I were stunned by the amount of wildlife we saw in just the small area around the anchorage and moorings. View the album here.
Thursday we ran a few last errands in town and David spend most of the day putting the boat back together from projects. In the afternoon, Lisa and Nils picked me up and we went to hike over to the beach on the other side of the Cabrits National Park. The Doyle guide says the snorkeling is good, but upon viewing the swell, we decided the seas were too rough to snorkel. We did have a lovely hike back on the Waitukubli trail though.
For dinner that night, we went to the Purple Turtle with Lisa and Nils to meet up with the crew of Gaia, Mike and Kirsten, the crew of Alpha Crucis, Tom and Megs, and Melissa, a single hander aboard Acedia. Quite a gathering of Americans (and one very friendly kitty).
Saturday morning David was up and off to customs when it opened at 8:30. We cleared out and left the bay by 10 am. We sailed close hauled for 8 hours to get to Saint Pierre, Martinique, were we slept for the night and then had our anchor up by 8 am for another close hauled sail to Rodney Bay, Saint Lucia.
Along the passage, we saw dolphins for the first time in MONTHS (since Bermuda I think) and spent many hours entertained by brown bobbies, who would fly next to us, then zoom up into the leeward side of our sail, so close we thought maybe they had landed on us. It's wild to watch them skim the water, and we don't know how they handle the turbulent air directly leeward of our sails.
Next stop, Saint Lucia!
Social Share