THIS POST MAY CONTAIN AFFILIATE LINKS. PLEASE READ OUR DISCLOSURE FOR MORE INFO.
One of the first things we talked about when we were making our first year plans was coming up to Maine, and we were looking forward to having a great time with family!
After the bachelor weekend, we stayed one more night at Dimillo's in Portland. David was able to get oil changes done for our engines and generator (200 hours for the generator, the engines weren't really in need of a change but we did it anyway) and we were able to see my cousin Ed and his friend Kathleen. They live in Bowdoinham Maine, and Ed is a pretty amazing guy! In addition to being a helicopter pilot and avid kayaker, he brought us gifts of his homemade Peruvian Pepper Pate and raw Honeycomb (yum!!). After drinks aboard SH, we went out to dinner at 555.
(P.S. Ed is an avid outdoors man, and with the help of a book in his car I was able to determine that my ID of the hawk a few weeks prior was incorrect. It was more likely a Peregrine Falcon.)
Tuesday we left Portland and sailed most of the day up to Boothbay Harbor. We anchored in Boothbay and spent two nights there – but we didn't even go ashore. Thursday we sailed to Billings Cove, which was a lovely anchorage until the sun went down, and we were blinded by the dock light at one of the waterfront houses. Although it was awful, we could still sit on the bow and see the stars and Milky Way for at least half of the sky…
Friday we motored over to Atlantic Boat Co, in Brooklin. This was a short drive from my Uncle Jim and Aunt Melinda's new home, a cozy little cottage. We picked up a mooring at ABC, and in a few hours, Uncle Jim motored past, and picked up the mooring next to us. SH got to meet Requiscere – a Hinkley Bermuda 40, that Uncle Jim has had since 1986. On board were Jim and Melinda, in addition to their daughter Courtney, her husband Peter, and their kiddos Graham & Camden. We got to have the whole family over for dinner on SH. Graham is an avid crawler, and it was amazing to have him in the cockpit. We zipped everything up so it was fully enclosed and he just motored around under our feet!
The REAL reason we were all here was the 7th Annual Shellback International Regatta. Last year, Uncle Jim built a shellback named Frolic, just for his granddaughter, Camden. Camden is four, but she is the actual owner of the boat…and isn't she just the cutest boat owner you've ever seen? (A shellback is a wooden dinghy, designed by Joel White.)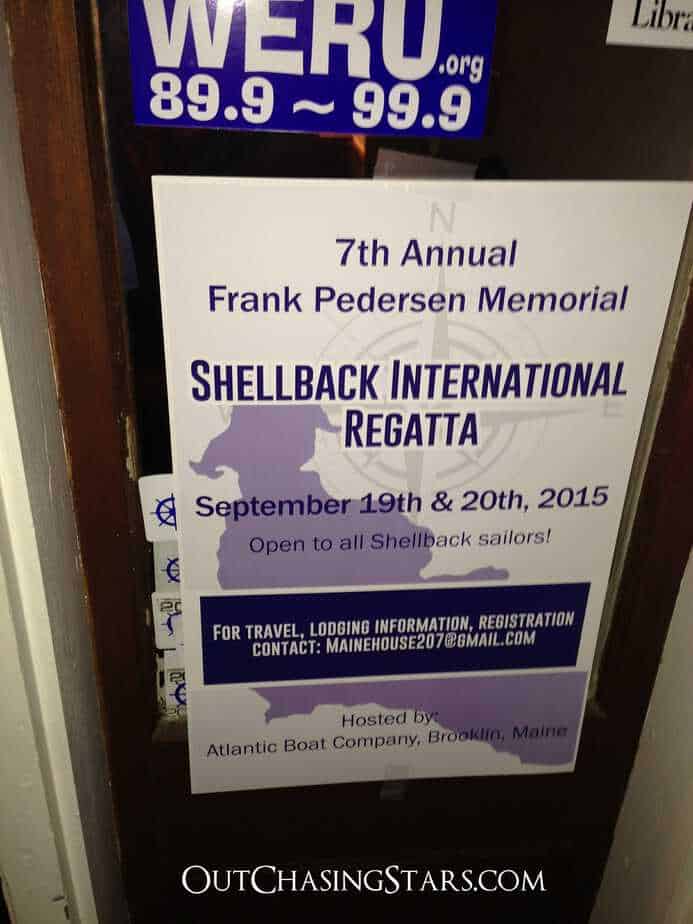 Uncle Jim entered Frolic in the regatta, and sailed the 7 races on Saturday. Camden even crewed the first two! The rest of us hung out on Starry Horizons and watched the race from our lounge deck. We had a picnic, and cheered every time Frolic rounded the race buoy. The fog threatened every once and a while, but we enjoyed watching it roll in and out, playing hide and seek with the island across the bay.
Saturday night was dinner at a local inn, and the awards ceremony included a very special one – the "Littlest Sailor" award.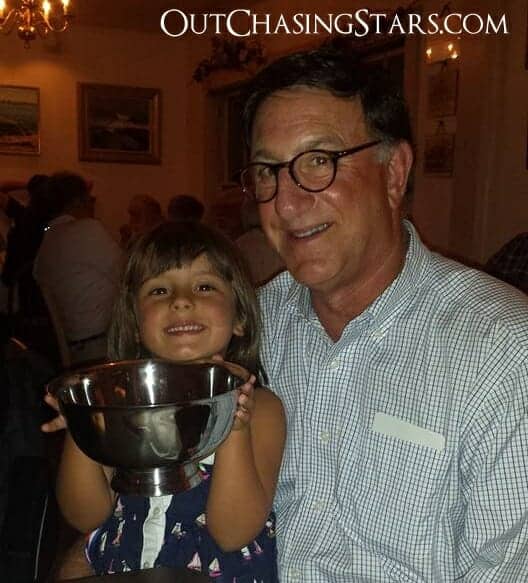 Sunday we enjoyed a leisurely day on the boat and caught up with the family for one last dinner. We had SUCH a good time with the family.
Monday morning we (and by that I mean David) got up at 6 am to slip our mooring and head out. We sailed 12 hours to Ebenecook Harbor, on the Sheepscot River, where we anchored for the night. It was a beautiful anchorage, and plenty of room, even with a few marinas and mooring fields around. We spotted a lot of seals, and the sunset was fabulous!
Tuesday morning we motored to Robinhood Marine Center, just across the Sheepscot River, where we picked up a mooring. David and I were very productive, and prepped the boat for our departure.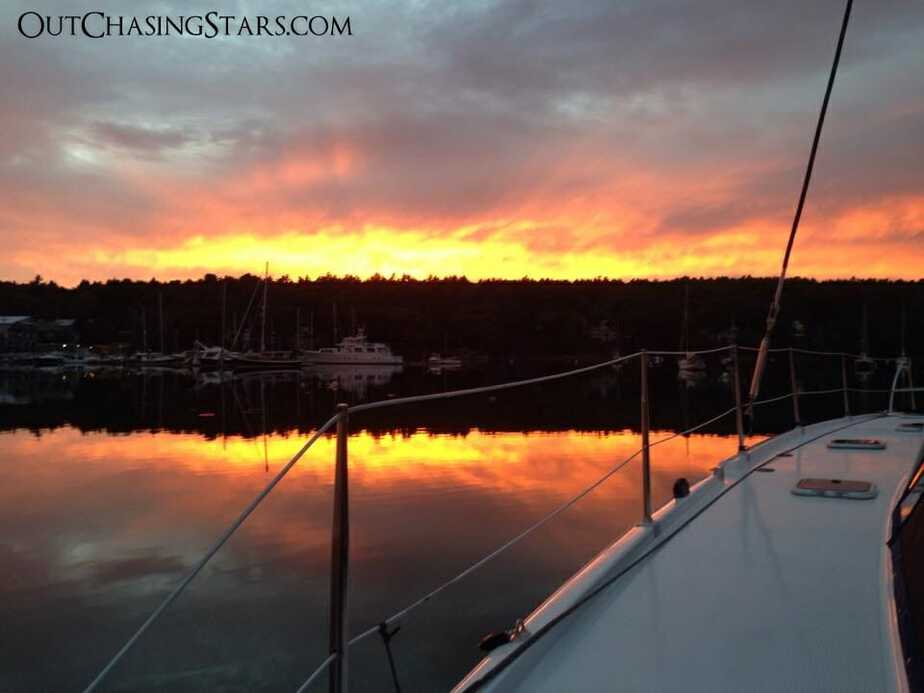 SH is safely tucked in at Robinhood, and David and I are in Texas for a 2-ish week visit. Our plans are to spend time with friends and family, attend a wedding on the 3rd, and then start to look at the weather to identify a window to make the jump to Bermuda!
Watch the Video: Meandering Around Maine
Watch the Video: 2015 Shellback National Campionships
Social Share