THIS POST MAY CONTAIN AFFILIATE LINKS. PLEASE READ OUR DISCLOSURE FOR MORE INFO.
In our last post about our whereabouts, we had just arrived in West Bay with my cousin Robert on June 25th. On the 26th, Robert and I went to Clifton Heritage National Park, to snorkel the Ocean Atlas sculpture (more about that in a separate post). After nap time, we called a taxi. From West Bay, it's best to call the airport taxi stand (242-207-7318), because the airport is only about 10 minutes away. Our taxi driver, Beryl, was amazingly funny and gave us a driving tour of the main road in Nassau. The taxi ride to Atlantis was $70. Factoring in each way, you are looking at $140+ for transportation. Moving Starry Horizons to the Atlantis Marina would have cost $200 a night, so arguably we could have moved the boat and gotten the amenities of a marina, but we enjoyed West Bay and I'm glad we didn't move.
Get some tips for staying at Atlantis.
We had a wonderful dinner out with Robert and spent some time strolling and people watching at the casino and in the marina. I'd been here in 2008 with my dad, but now that I've been to Vegas I can see that it's really the same thing.
Robert left the next morning which was very sad! The taxi ride to the airport was $30. Robert was a great companion, and easy going. Never even complained, even though it's crazy hot.
David and I spent the next few days in West Bay, for some quiet time. We tackled a few projects, sent me up the mast, and I went on a super exhausting provisioning run.
Thursday the 2nd we left for an overnight sail to Little Harbour. It took us about 14 hours, and was a great sail.
Little Harbour is a small, very well protected harbour, with a handful of houses, and Pete's Pub. We moored for the first time ($25 a night, payable to Pete's). The water is a bit murky, and it's all a sand bottom – good holding, but not good entertainment.
David and I went ashore to pay for our mooring and go for a walk. We walked around the residential area and beaches and then up to the abandoned and defunct lighthouse. Back to Pete's Pub for a well earned cold drink! Back at the boat, I kept noticing little "fins" breaking the water. Turns out, they were baby spotted eagle rays! They swam their slow, leisurely circles around us, just skimming the top of the water. During our stay, I even got to see them jump twice!
Saturday was July 4th, and we started early by kayaking over to the cave across from the pub for a little exploring. If you are interested, you should read the history of Little Harbour. Pete's Pub had a pig roast special, plus a DJ. Little Harbour has about 25 mooring balls, but most of them stayed empty as the Pete's Pub dock filled up with power boats and fishing vessels. We went early and enjoyed the food and their signature drink – a Blaster. It's safe to say their potato salad is probably the best I've ever had. Pete's Pub has a boardwalk that goes up and over the island and down to a beach. It's a beautiful scene, with the waves careening in and splashing up!
We had some quiet time on the boat, and then I took the kayak out for a solo expedition to the mangroves. Little Harbour is calm, perhaps the calmest we've been to on Starry Horizons.
Sunday morning we left Little Harbour for the three hour sail to Man O War Cay. We anchored just west of Dickie's Cay, where its a short dingy ride to MOW. We took an evening "stroll" in our dingy, exploring MOW Harbour and East Harbour. There are even some cats here – four sailing cats in charter, and a private power cat. We also said hello to our monohull neighbors on Magic Dragon, Andrew and Carl.
Monday morning, I tuned into the Cruiser's Net, moderated by Richard on Horse Feathers. Cruiser's Nets are a scheduled time for cruisers to check in with local information. This net is for the Abaco region. It's at 0815 on channel 68 on the VHF. First, there is a weather report, including passage weather for those headed to Florida. Then, there is a general update about local events, such as the Abaco Time Regatta going on right now. Then, some local businesses give a short advert (mostly restaurants) and then cruisers can ask questions, and finally there is a time to announce arrivals and departures, so I chimed in to report our arrival.
Back in our passage from Florida, I'd managed to break our sail bag zipper, so we found a recommended guy, Jay Manni, to replace the zipper. Monday morning we arrived in MOW and located Jay, who I had been emailing. We dropped the sail bag off at his shop on Dickie's Cay, and he told us about the local going-ons; he's a very friendly guy, with a very sweet dog named Licorice.
We dingyed back to MOW and went off on a walk. There are no real cars on MOW, but a lot of golf carts! The golf cart paths are well paved, and the island is a Bahamian beauty, with lush landscaping and cottage houses. David and I made a stop at the ball field, which overlooks the beach and Atlantic Ocean – stunning! We stopped for lunch at Hibiscus Cafe, where I had a conch patty burger and David had Chicken in da bag – basically French fries and chicken tenders in a foil packet with a mix of ketchup and hot sauce. All was good, including the ice cream we got next door!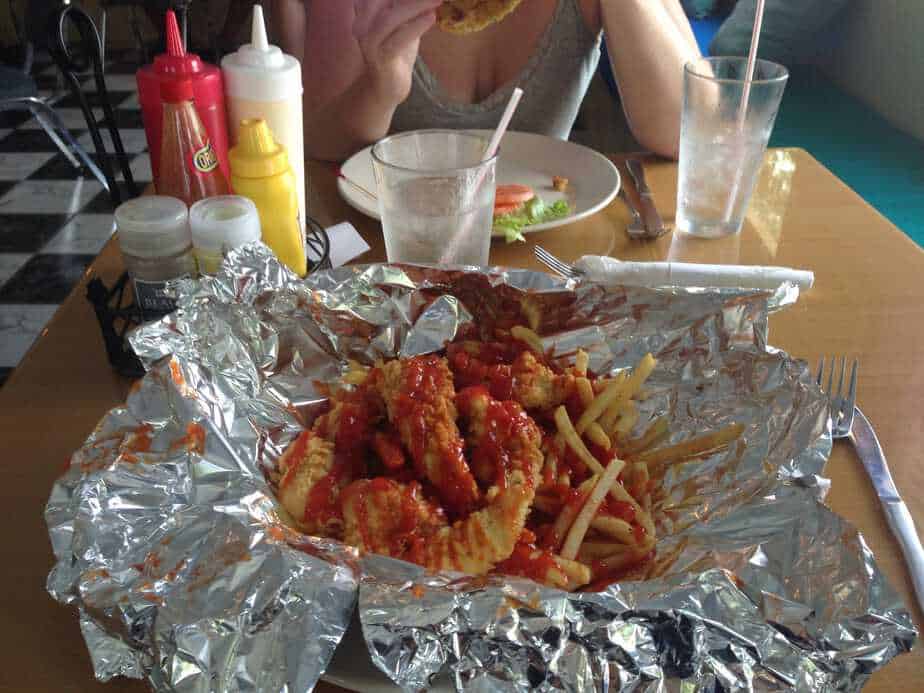 We walked back up to where we had passed MOW Groceries. I had done a recon mission when we first passed it and now we stopped to pick up a few basics:
Broccoli (was marked on sale): $1.85/lb
Chicken quarters, frozen: $2.75/lb
Half gallon 2% milk: $3.98
Popcorner chips, individual size: $1.25 each
Barritts Ginger beer cans: 6 for $6.00
Total: $23.35
Chicken breast, not frozen, was available around $7.50/lb. there was frozen lamb available cheaper at about $5/lb. overall though, the store was well stocked!
On our dingy back we stopped at Horse Feathers to say hello to Richard and thank him for moderating the net. This afternoon, I got super productive and went for a swim followed by cleaning the hull and then made fudgesicles!
Tomorrow we will have a quiet day on the boat, and try to tackle a few projects. We will stay here until Jay is done with our sailbag (tomorrow? Wednesday?) and then head over to Marsh Harbour to settle in and prepare for Thomas' arrival on Friday.
Thanks for reading!
Watch the Video: Cruising the Bahamas
Social Share