THIS POST MAY CONTAIN AFFILIATE LINKS. PLEASE READ OUR DISCLOSURE FOR MORE INFO.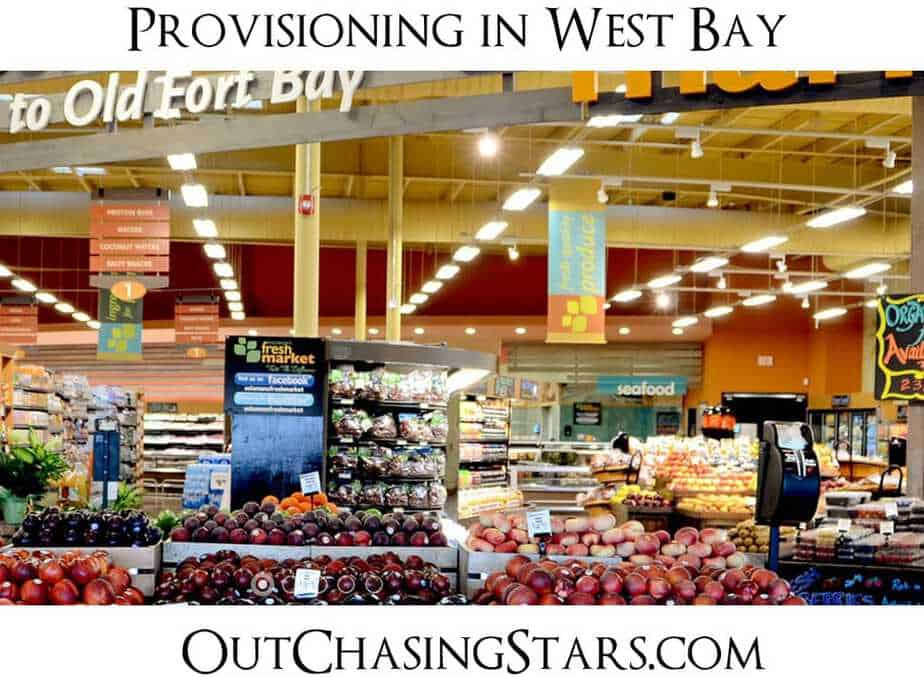 From Jaw's Beach, it's 7 km to Solomon's Fresh Market at Old Fort Bay. The surrounding neighborhoods are luxury homes, so it comes as no surprise that this grocery store rivals Whole Foods. Unfortunately I chose to bike the 7 km in 90 degree weather, which I would not recommend. Next time, I would take a taxi, which would probably be $20. The buses in Nassau don't really have hard defined routes…no one I asked could tell me exactly how far west the #12 bus goes. It does go past the market though, so one could walk east from Jaw's Beach until you reach a bus stop and wait (hoping that the bus will go that far), or take a taxi there and a bus ride and walk back. In my experience the bus drivers have been very nice and accommodating, and if you tell them you are headed for Jaw's Beach they will get you as close as possible.
Solomon's is extremely well stocked with high end food. There are lots of organic options and specialty items available. Accordingly, it's expensive. I was only there to pick up basics. I had a backpack, and since I was in for a long bike ride back I only bought frozen meat and vegetables, which kept the eggs and milk cold. There is an entire freezer full of meats. I am guessing that when the meats don't sell, they are frozen and for sale. Some of the frozen meats looked a bit freezer burned though. I was very aware that most of what I was looking at was organic. Conventional items seemed to take up a small percentage of the store.
Here's what I bought and prices:
Dozen extra large eggs, store brand: $3.99
Half gallon 1% milk: $4.69
16 oz frozen green beans: $2.49
10 oz organic frozen broccoli: $4.49
10 oz frozen Brussels sprouts: $2.99
Nature's bakery fig bar (energy to get home!): $1.19
Apple juice (cold beverage for hydration!): $2.19
2 lbs organic frozen chicken breast: $9.99/lb
4 lbs center cut frozen pork chops: $4.99/lb
I have no mind for prices and can not for the life of me tell you how these prices compare to what one would buy in the states. I did know before hand that prices in the Bahamas tend to be more expensive because everything is imported. I was also told before that pork is one of the cheapest meats – which is good for us, we love pork chops!
My bill was $62.54 when VAT TAX was added in. These meats will last 5 meals, and with everything we have on board we should be good with provisions until Marsh Harbour.
Another note: Solomon's Fresh Market delivers. You can learn more in their website, but there's a minimum and it looks like only dry goods. Also, there is a company called FoodStore2Go that delivers almost anywhere in the Bahamas. There is (supposedly) only a $9 delivery fee, but after shopping in a store and checkling out prices I see the huge markup.
Social Share