THIS POST MAY CONTAIN AFFILIATE LINKS. PLEASE READ OUR DISCLOSURE FOR MORE INFO.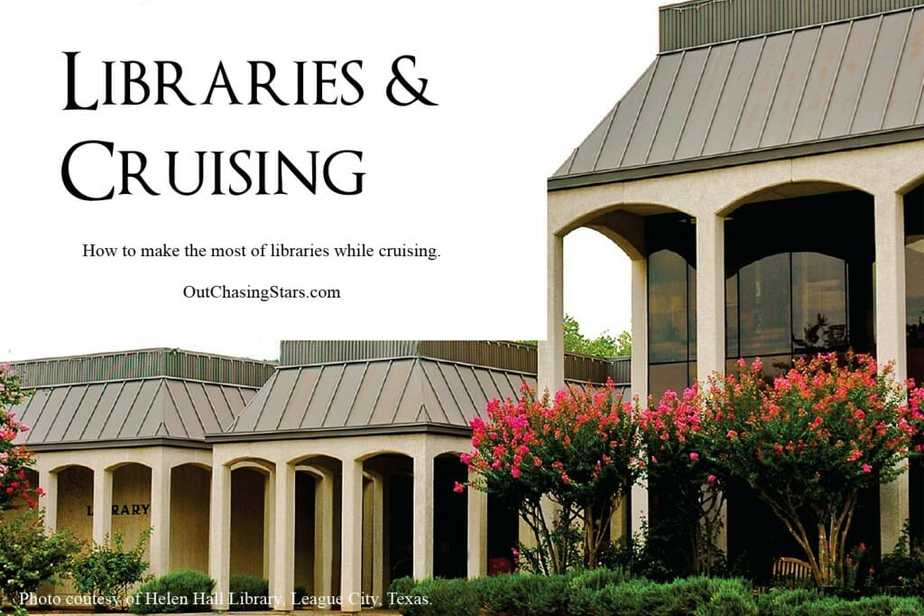 For those of you gearing up to take off on an adventure, even if it's for a charter or small passage, do yourself a favor and go to your local library. I went to Helen Hall Library in League City before we left, the same one I went to back in high school.
Not only did I have an overdue fine to pay (don't worry it was only a few bucks) but a lot has changed in the library system for the digital age. We may not remember a lot of the perks of visiting a library, so take the time to get a refresher course:
Internet – Libraries are not just for books! Most libraries in the US have wifi now, and – remember this from when you were a student? – they have computer stations. An excellent way to access the internet for free when wifi is scare and data plans expensive.
Zinio – You can also download digital versions of magazines for free, if your library has partnered with Zinio and RBDigital. This includes Cruising World magazine. Sadly, our library at home has not done this yet.
OverDrive – This is what I have used the most. OverDrive allows you to check out up to 10 books or audiobooks at a time – great for stocking up for a passage. Books can be wirelessly delivered to your Kindle. I haven't been using the audiobooks much yet, but I think it'll be great for entertaining myself during passages.
Events & Activities – While in a new harbor and looking to meet people, make friends, or just have something to do, the library has a lot of options available. The Manatee County library near us here in Palmetto has book clubs, classes, lectures and lots of activities for families and kids.
If you can prove residency, you can get a free library card. However, the Manatee County library system has a program for non-residents. For $20 per year or $100 for a lifetime membership, non-residents can get a card and use the library's resources. You don't have to be a member to enjoy most of the on site services of the library.
Social Share