THIS POST MAY CONTAIN AFFILIATE LINKS. PLEASE READ OUR DISCLOSURE FOR MORE INFO.
Edit: It's been over 3 years since Starry Horizons was launched. Check out our 6,000 nm review and 20,000 nm review for our thoughts on all this work after 3 years of cruising.
Prepare yourselves… This is another one of the trademarked David technical boat posts. I'll try to do a basic and technical explanation of the different items so that everyone can get some use out of this post.
As of 9:30EST this morning (thanks to Paul, Sandy and Miguel working on a Saturday to help us get ready to leave), the work on the boat in Miami is finished. This means I can finally go through and detail all the (major) work that has been done on the boat while we've been here. So here we go:
Shore Power Converter
Edit: We dod not recommend adding a shore power converter. It's so heavy and we rarely ever use it, plus a slew of other problems it creates.
This was the biggest and most complicated project by far. I haven't heard of another sailboat in our size range that has this equipment on board, so there is a very good chance that Starry Horizons may be among a small handful in the world, and likely is the only Helia in the world, that has this equipment installed.
So what does it do and why did we install it? The most basic explanation of what it does is that it will allow us to plug into any marina in the world and receive clean American style power. This means we can run all the equipment we want on the boat (TV, air conditioners, hair dryer, etc etc) without having to worry about whether it will work on, say, European (50hz) type power.
The complicated explanation (stop reading now all you technophobes!) is that the shore power converter will take the shore power input (AC power), convert it to DC power and then re-convert it back into AC power at the 240v, 60hz power that is used onboard Starry Horizons. So even though the input power may be at 230v and 50hz, the power we'll be able to use onboard will be nice clean American style power.
We decided to install the unit because we will eventually be staying in marinas around the world where the input shore power will be different than the power that is used aboard Starry Horizons and being able to easily operate all equipment onboard (Air conditioners especially!) will be very nice. Plus, we didn't want to be those people who have to run their generator at the dock to keep their batteries topped up!
A few more technical details… the entire converter is made up of 3 components: 1) The control unit 2) the transformer and 3) the inverter. The transformer is extremely heavy (it was quite entertaining watching the 4 guys moving it onto and around the boat!) and the only place we could find room for everything was under the master berth. There is a fiberglass lining that FP made for storage under the bed that had to be cut out so that the control unit and inverter could be mounted to bulkheads. A special platform was glassed into the floor of the compartment so the transformer could be bolted down and special supports were made to help prevent it from coming loose while the boat is underway.
Needless to say, this was an extremely complicated install and probably the main reason for our extended stay in Miami.
Through-hull Scoop
As I have detailed previously, we had lots of issues with air getting pulled into the watermaker system as we attempted to make water while underway during our Atlantic crossing. Paul and several other people suggested a scoop on the through-hull as a way help combat this problem.
I was impressed as Paul, Sandy and Miguel swapped out the through-hull while the boat was still in the water, and the boat didn't sink! I'm hoping to test out this upgrade while we sail to St. Pete this next week.
Holding Tank
The boat was supposed to come from the factory with 3 holding tanks, one for each head. However, for some reason, Fountaine Pajot didn't install the 3rd one in the port forward head. Instead, they gave us the holding tank while we were in France and we brought it here to Miami where FYG installed it for us. So now, we have 3 holding tanks on board.
Air Conditioner Condensation Drain
This was a surprising problem for us. When I would run the air conditioners on the boat, I would notice a pool of water in the compartment where the AC was located. I checked all the hose connections and couldn't see any obvious leaks, but when I mentioned this to Paul, he knew exactly what the problem was.
The Cruisair (now Dometic) air conditioners we have on board have plastic condensation collection pans, and when FP installed the connector for the condensation drain pipe, they tightened it too far and cracked the plastic. This was on the bottom of the pan, so I don't feel too bad about finding it, but 4 out of the 6 air conditioners on board had this problem. Fortunately, it was a relatively easy, but time-consuming (to take out all the air cons from their hiding spots), fix and they're no longer leaking.
Convert Boat to Propane
The boat came from the factory set up to handle butane, but the USCG requires propane to be used (I still haven't figured out exactly why!). So the FYG service guys added an electrically controlled valve (also required apparently) but set up the system so that we can keep the butane bottles and easily swap from one to the other depending on what gas we find for that part of the world. We added a 17-lb fiberglass tank.
Tri-Color Light
I think is completely ridiculous that Fountaine Pajot doesn't offer a tricolor light at the top of the mast as a standard piece of equipment, but they also don't offer it as an option! The navigation lights at deck level are very bright (not a bad thing in order to be seen) but the stern light especially is located in a bad spot. It lights up the entire cockpit at night, which makes it very difficult on our night vision.
We installed an Orca Green Marine TriAnchor light (meaning it has both a tricolor and anchor light combo) with a photocell that will automatically turn off the light when it's light out. I'm very excited about this upgrade, both in terms of preserving our night vision, and increasing the odds that other boats will be able to see our lights at night. It's much easier to see a light that's 70-odd feet in the air, rather than lights at deck level that can easily be hidden behind waves!
Boat Lettering
Starry Horizons now officially has a name! It felt a bit odd to sail over from France on an anonymous boat, but we finally had the time in Miami to get lettering made. She looks great!
Cleat Backing Plates
While we were in Las Palmas, the starboard forward cleat somehow got bent during a crazy day in the marina when the wind and swell were slingshoting Starry Horizons forward and back. While I'm still not sure how this happened, the cleat needed to be replaced. We also noticed that our stern cleats had come loose and were no longer held down tight. Given this, and that other Helia owners have reported lots of problems with the aft cleats, we decided that we needed to upgrade the set up.
We had larger, single piece backing plates made out of aluminum for the 2 forward and 2 aft cleats. This will be a much better way to distribute the force on the cleats compared to the two small plates (one for each bolt) that was used from the factory.
Shower Pump Filters
Our starboard shower pump failed on the way over across the Atlantic, due to what we think was bad wiring. Paul replaced the pump for us and also added a small inline filter to both shower pumps to help prevent any future clogs from things such as Amy's hair, which gets everywhere!
Maestro Head Door Latch Protector
This was a small upgrade, but we noticed that the latch for the door into the owner's head was scraping against the frame of the door and scratching it. We had a small latch protector installed to fix this problem.
Anchor Chain Counter Calibration
We've anchored for 2 nights so far on Starry Horizons with hopefully lots more to come in the future. The chain counter on the boat was set to meters from the factory, and when I swapped the settings to feet (still working on intuitively knowing the metric system) something was obviously wrong. When we put out chain in Las Palmas, it showed that we had 350 feet of chain out, when we only have 300 feet on the boat! That made it very difficult to judge the proper scope.
Paul showed me how to calibrate the chain counter and we discovered that for every turn of the gypsy, it was calibrated to count 3 feet of chain when in reality it should have been counting about 9 inches! So that is now fixed and we should be able to accurately judge how much chain we have let out.
Port Hull Escape Hatch Leak
I have held off on mentioning this so far because I didn't want anyone to freak out on us (that means you parental units!), but the escape hatch in the port hull had a (very small) leak as we came across. We couldn't close the hatch tight enough which meant it couldn't make an entirely watertight seal.
In order to fix this, two small spacers were made that allow the latches to make a much tighter seal. We'll get to test this as we head up to St. Pete, but there should be no more leak! You can all rest much easier now.
That's pretty much it for the big-ticket projects that were accomplished while we were here in Miami. There were a few other things that were taken care of for us, gelcoat repair, LED replacements and fixing a few small things that broke, but the boat is ready to move on to St. Pete.
The current plan is to leave Miami on Monday to take advantage of a weather window and arrive up in St. Pete likely on Wednesday. We have a whole additional slate of projects scheduled including a custom bimini hardtop, cockpit enclosure and solar panels so there is still plenty of work to be done. Fortunately, we are at least nearing the end of our delivery/work phase and getting close to the enjoyable "cruising" phase!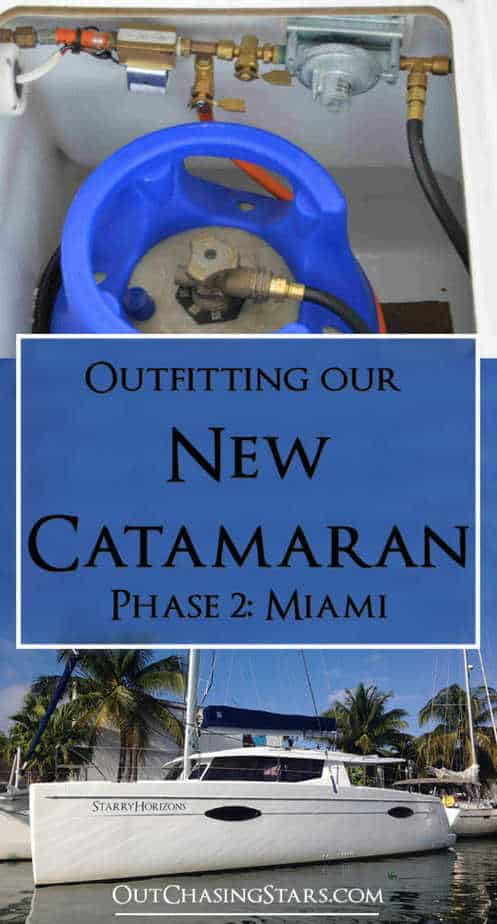 Social Share