THIS POST MAY CONTAIN AFFILIATE LINKS. PLEASE READ OUR DISCLOSURE FOR MORE INFO.
We have been enjoying being back on solid ground. After arriving we took care of all necessary things like clearing in to the country and getting cell phones. We have been spending a lot of time catching up with our family and friends. My iPhone says since I got the new SIM card I've talked for 15 hours! I don't know how accurate that is, but I have had 1 hour or more conversations with several people. Never mind responding to all the facebook comments, blog comments, and emails!
Yesterday was a pretty awesome day in my book. We started off the morning by waking up at 7:30 and having a hot breakfast of chorizo and eggs (both leftovers from the trip). We meandered over to SH, expecting the work crew to be there at 9:30. They had not arrived yet, so we puttered around for a bit, and then I set up my folding chair in the grass and shade to read.
At about noon, our friends from Houston, Gary, Michelle and their 5 month old baby Zachary, arrived. Michelle is originally from Miami, so they were in town for Zachary's first visit to her family! We gave them a tour of our boat, and as we were packing up to leave, guess what we saw:
Michelle was super excited for Zachary's first boat (even though we didn't leave the dock) and his first manatee.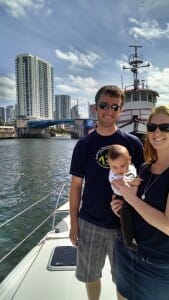 We packed up in their car (by the way, still no sign of the work crew) and headed out to Key Biscayne, which is a small island community in Miami. There is a state park, and in that park, a No Name Harbor with an anchorage and a restaurant called Boater's Grill. We had a great seafood lunch overlooking the beautiful, sheltered harbor, and all the boats nearby. The park has a bunch of hiking trails that look great, should we ever get the chance to go.
Next up, Gary and Michelle dropped me off at Viceroy Hotel, where I got to redeem my birthday gift from David – a spa day in Miami. Birthday gift, and also a bit of a reward for hanging out with him for 26 days! I had a wonderful facial and then a pedicure. The view from the pedicure was fantastic – 15 floors up and overlooking the cruise ship terminal, the entrance to the Miami River, and Mark Cuban's boat, Fountainhead. As soon as I settled into the chair, I noticed people at the boardwalk across the way gathering to look at something in the water – another manatee! My nail technician was even more excited than I was! We watched for a while, and one manatee turned into two moving together, and then they disappeared from the surface.
The Viceroy Hotel is beautiful and I got to enjoy a sauna and steam room, as well as walking by the pools and enjoying the view from the pool area. I should have brought a bathing suit to take a dip! I also stopped in the nearby bar for a cocktail and an appetizer. I love David and had a great time through 26 days with him, but getting out on my own was a bit fun!
I gather that either manatee sighting are not all that common, or they are like dolphins in Galveston Bay; we see them fairly often, but it never gets old or less exciting! So, yesterday was a rating of 3 out of 3 manatees!
Today we met up with another friend, Sharon, who I knew from my time back at RPI. I haven't seen Sharon in at least 8 years that we could figure. Sharon and her boyfriend Mike joined us for lunch at Garcia's, which is a seafood place just across the water from our boat (we could see it from the deck). Afterwards, we took Sharon and Mike to the boat for a tour, and then they took us to Gulfstream Park Racetrack. David and I had never been to a horse race before, so we watched a few races and the pomp & circumstance around it. I had a mint julep! There is also a casino, and although David and I don't gamble we enjoy the people watching and the two types of gambling brought in quite a crowd!
The past two days were a lot of fun, and a nice way to unwind and catch up with friends. We are glad to be here!
Social Share