THIS POST MAY CONTAIN AFFILIATE LINKS. PLEASE READ OUR DISCLOSURE FOR MORE INFO.
Starry Horizons has been in the Canary Islands for 5 days now and while the majority of our time has been spent doing boat projects (which we'll discuss more in a later post), we have managed to get out and enjoy a few relaxing activities.
On Tuesday, we rode our bikes over to Playa de Las Canteras, which is a beach on the west side of the island from where we are currently docked. There is a pretty extensive boardwalk with lots of shops and restraurants. All in all, a very touristy spot, but it was great to get out and actually see a bit of Las Palmas.
Our dock here in the marina is the "Tango" dock, which I think is mostly used for boats who are here for short stays. My nickname for it has been "Cat Alley" as there have been 5 catamarans here at various times. We've been the only Fountaine Pajot, but there has been a Leopard 40 from France, two Lagoon 420's (one from Austria, the other from Germany) and one Lagoon 400 from Norway. And of course when catamarans get together, we love to talk shop.
On Sunday, we hosted an impromptu get together with the crews of the Lagoon 400, the Lagoon 420 from Austria, and an American couple from Maine who are here on half a boat, but provided the welcome sound of American accents. It was a lot of fun talking with the other crews, where they've been, where they're going and all the stories they have to share. We're definitely building up our "cruising cred", but we've got a ways to go to match some of what these guys had to share.
It is nice to finally be in a cruiser's town. In A Coruna we were really the only ones living at the dock. In La Rochelle, there were a few boats that came and went, but nothing long term. Here, the pontoon is full of live aboards, and there is quite the community. Cruisers are everywhere! There is a bar called Sailor's Bay, which is usually full of cruisers taking advantage of the free internet. There are also lots of young adventurers here looking for a ride to the Caribbean.
The other adventure undertaken here was a haircut for me. I'll admit that my hair had gotten wayyyy too long (when I wake up with Albert Einstein hair, it's not a good thing) and we took advantage of the stability of being at the dock for Amy to break out the sheep shearers. Fortunately for me, Amy is quite talented and I quickly regained my sexy style (after a trimming of the beard to non-hobo looking levels).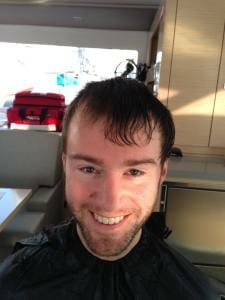 Social Share