THIS POST MAY CONTAIN AFFILIATE LINKS. PLEASE READ OUR DISCLOSURE FOR MORE INFO.
***See the very bottom for a post-Atlantic crossing update***
Provisioning all of our food is a big project for me which I have been excited about. I love food! It was one of the things I was curious about before we arrived, so I thought it would be nice to put together a guide, and hopefully others would find it helpful. Plus it gives you something to read while we are out at sea, crossing to the Canaries!
Where to Shop
We started weeks ago. When David's parents were in town they took us to Hyper U and Carrefour de Angoulins, which are big grocery stores, attached to what is almost a mall. It's not like a Costco or a Sam's Club; it's not in bulk. Instead, it's a wide variety of products available in one place, which is not that common in the city. While we were there, we picked up some items to "test run" for provisioning. It also carries department store type items – clothes, bedding, electronics, etc.
From Minimes, the Carrefour de Angoulins is a 25 minute bike ride away.
Closer, about a 10 minute bike ride away, is the Carrefour Market. This is much more like an American grocery store. This is where I did most of the shopping once we moved onto the boat, unless I just needed a few small things.
There is also a Carrefour City, just a few minute's bike ride away. This is the smallest of the Carrefours.
Specialty stores are available, like boulangeries (bread), patessires (pastries), and chocolateries (guess).
Finally, there is a market every day, 365 days a year. It is a bigger market on Wednesdays and Saturdays, when it spills out to line all the nearby streets. Everyone was friendly, and I managed to do quite a bit of shopping without knowing too much French, even bumping into some people that had lived in the States for a bit.
I could not for the life of me find someplace online that would tell me exactly where it was, so I've made a little map for you so you don't have to wander around until you find it!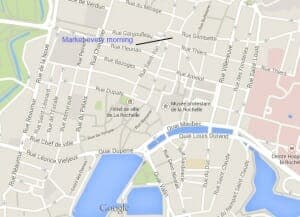 Milk is available here 4 ways, most of which are difficult to find in the US.
– Raw – milk that has not been pasteurized. Typically this milk is only good for a few days.
– Pasteurized milk – this is what we commonly see in America. Pasteurized milk lasts 2 weeks or so.
– UHT milk – This is the most common milk in Europe. UHT milk lasts, unopened, six to nine months.
– Powdered milk – Nonperishable and light weight.
Most cruisers choose the UHT route, due to saving space in their fridge and energy from chilling pasteurized milk. FYI – a lot of milks in the US are UHT milk. They are just packaged a bit differently for our comfort. For example, that is why Horizons Organic Chocolate Milks don't need to be refrigerated – they are based on UHT milk. As for the powdered milk, we bought some to try out, and so far have used it to make our own hot cocoa mix. Powdered milk may become more useful if we are leaving directly from the states for an extended period of time and UHT milk is not available. We bought a skim, semi-skim (demi-ecreme) and whole milk UHT to taste test. Chill & shake before drinking and voila! David has delicious milk for his cereal.
While at Hyper U, we also purchased some canned items to test out. I may be fooled, but it seems like there are a lot more canned items available at these stores then in the states. As we will be (very soon hopefully) out at sea for a minimum of 3 weeks, we want to make sure we have a variety of foods to keep us happy and healthy.
Eggs in Europe are unrefrigerated, and unwashed. A very handy resource tells me that eggs in this condition will last at least a month, maybe even more with regular turning and coating in vaseline. That's good – I eat a lot of eggs!
While I think I have seen bacon at some stores, it is more common to see lardons, which are just thick bacon that has been cut. I cook them in the skillet and then scramble eggs in them.
I ask to ask about many things, and one of them was peanut butter. I found it in the ethnic foods section of the Carrefour Market, right next to the marmite.
Yeast was another I needed help finding. There is a great post here about yeasts (if you have Google Chrome as your browser it will translate the page for you).
Baking powder is sold in small packets, bundles of 5 or 6. I did not find baking soda.
Meats are pretty interesting. Seafood is not available at the Carrefour City, so you have to go to a bigger Carrefour or to the daily market. Duck (canard) is very common, as is rabbit (lapin) and veal (veau). Turkey is available a lot as well, but usually scalloped slices of breast instead of the whole turkey.
Shopping in a foreign country is pretty quickly becoming a fun activity for me. It's a nice challenge to find the foods you need, and then buy some local items and use them as well.
**Update 1/26/14
Now that we have crossed the Atlantic, here are a few things I would buy more of in La Rochelle:
– Duck. Duck. And More Duck. There is canned duck confit available in La Rochelle, which is a tender and amazingly easy meat to serve. I would have bought a bunch more cans of that, it was so good! I also would have bought more duck breasts. They come vacuumed sealed and available in ALL grocery stores in La Rochelle. Duck breast is much cheaper and easier to find than in the states.
– Canned vegetables. For our Atlantic crossing we provisioned in Las Palmas, and the selection was very slim. In La Rochelle there is a wide variety of canned vegetables that we could not get in Las Palms. In Las Palmas we really only bought pickled beets, asparagus, and green beans. In La Rochelle, we had a ton of veggies, including stuff we had never heard of before. In particular we liked the canned Ratatouille.
– Butter with salt crystals. This was more of a fun one. Pierre and Sylvie gave us a block of it and I wish we had gotten more, it was so good! Of course, that area of France is known for its sea salt. Having that butter on bread hot out of the oven was delicious!
**END
Social Share