THIS POST MAY CONTAIN AFFILIATE LINKS. PLEASE READ OUR DISCLOSURE FOR MORE INFO.
Edit: It's been over 3 years since Starry Horizons was launched. Check out our 6,000 nm review and 20,000 nm review for our thoughts on all this work after 3 years of cruising.
Amy has been doing a great job of providing updates on what we've been doing while here in La Rochelle and touching on all the boat projects that have been completed, but I wanted to consolidate things and provide a bit more of the technical background. Hopefully someone will find this helpful, but mostly this is my attempt to put all these thoughts down so I might have some help remembering them in the future!
Electronics
Uchimata installed a custom suite of electronics for us. We thought long and hard about what we felt was the minimum we needed for our Atlantic crossing as we will likely be doing more electronics work in Florida. Here's what we decided on:
Helm
Raymarine e125 MFD
Raymarine i70 displays (2)
Raymarine p70 autopilot control
Standard Horizon VHF RamMic
Nav Table
Vesper Marine Watchmate Vision AIS
Vesper VHF Splitter (to use the same antenna for AIS and VHF)
Standard Horizon GX2000 VHF
iPad
Laptop
Iridium Extreme Satellite Phone
Delorme InReach Tracker
Mast
Raymarine HD Radar
Vesper Marine VHF Antenna
As I've said from the beginning, it is important to me to have a good integration among the electronic components onboard and we've got these things set up so that they can interact appropriately. The Vesper AIS will share information with our Raymarine plotter and the plotting program on the laptop. The iPad can control the Raymarine equipment (using Raymarine apps) and we can use the Navionics app to easily plot a course and send it to the plotter. We'll also use the iPad or our phones to monitor weather information (speed/angle/etc) while we're inside. The Sat Phone is set up to be able to download email and receive weather reports, which we can read on the laptop and adjust course if necessary. It's a pretty neat system!
Potential future upgrades in Florida include:
SSB Radio at the Nav Table
Battery/Other Systems Monitor at the Nav Table
Additional p70 Autopilot control at the Nav Table
One of the interesting things we learned during our factory tour (and that sort of falls under electronics since it integrates with the autopilot) was that Fountaine Pajot modified the steering system on the Helia starting with hull 73 so that the boat now comes with a hydraulic system. We were quite happy with that as some opinions we'd heard of the old system was less than favorable!
12V Fans
The temperature at the moment doesn't necessitate the use of fans since it's not exactly roasty toasty outside, but as we make our way south on the way to the United States, we are hoping that things will warm up a bit and having these fans will help keep the interior of the boat tolerable.
Uchimata ended up installing 6 Caframo Sirocco 807 12V fans in the boat. We had originally intended to install 7, but decided to wait on installing one in the owners head until we get to Florida and do some re-work for a washer/dryer. Watching these get installed was very interesting as I got to see a lot of the "behind the scenes" runs in the boat and how to access them. Hopefully that will come in handy in the future!
Flexofold Propellers and Stripper Rope Cutters
Adding folding propellers to a sailboat can increase your speed under sail by .5 to 1 knot. I know that doesn't sound like much, but 1 knot of extra speed on a 3,000 mile passage (such as we're about to complete across the Atlantic) can knock 70 hours off the trip! That was worth it to us to invest in folding props now.
We did lots of research on the props we wanted. Folding propellers offer the least drag through the water and good motoring ahead performance. Where they suffer is performance in reverse. However, Flexofold seemed to test better than other folding props in both ahead performance and in reverse, so that helped make our decision.
For the rope cutters, we initially planned on installing Shaft Shark rope cutters, but once we got here to France, we discovered that they didn't fit on the Flexofold propellers. Definitely a bummer! So instead, we've installed the "Stripper" which were recommend to us by a few people as an excellent alternative.
Watermaker
I've written previously about the 30 gallon per hour, Cruise RO Watermaker that we received after the Kemah Boat Show, and making water was a crucial requirement for us for our upcoming travels. While I had initially hoped to try and install the system myself while we were here in France, I quickly realized it would be a bit difficult as I wouldn't be able to run to Home Depot or West Marine to pick up random tools or supplies that were needed.
So Uchimata added installation of the watermaker to their list of projects, and after a slight bit of confusion with the wiring, the high pressure pump can handle both 220V and 115V and was initially wired for 220V when it should have been 115V, everything is running great! We're very appreciate to Rich, the owner of Cruise RO for his help answering questions and troubleshooting our install from several thousand miles away!
Drogue Attachment Points
A drogue is an important piece of safety equipment onboard and will help us slow the boat down if wind and waves are pushing us faster than we're comfortable with. Unfortunately, the way the Helia comes from the factory, there is no really good place to attach a drogue to a boat. So Uchimata installed two pad eyes, with large backing plates, on the inside of our hulls that we'll be able to use to attach the drogue.
Additional Projects
-Re-rigging mainsail to Incidences Square Top Attachment method.
-Upgraded our primary anchor rode to 100m of chain
-US Flag flying from stern
-Installed our EPIRB
-Added bed slats for all 3 cabins
-Swapped out factory anchor for our Mantus Anchor
-Re-worked windlass chain stopper
-Installed equipment for continuous line furler (Even though we can't use yet. Reason why to be discussed in another post.)
-Jacklines – Amy spliced eyes into each end of 8mm Dyneema line, and we "luggage tag tied" one end to a pad eye or a cleat, and then used smaller Dyneema line to lash the other end tight.
As you can no doubt guess, we've been busy. But the end is in sight (hopefully tomorrow will be the last day of projects) and then we can begin to look for weather windows to leave France!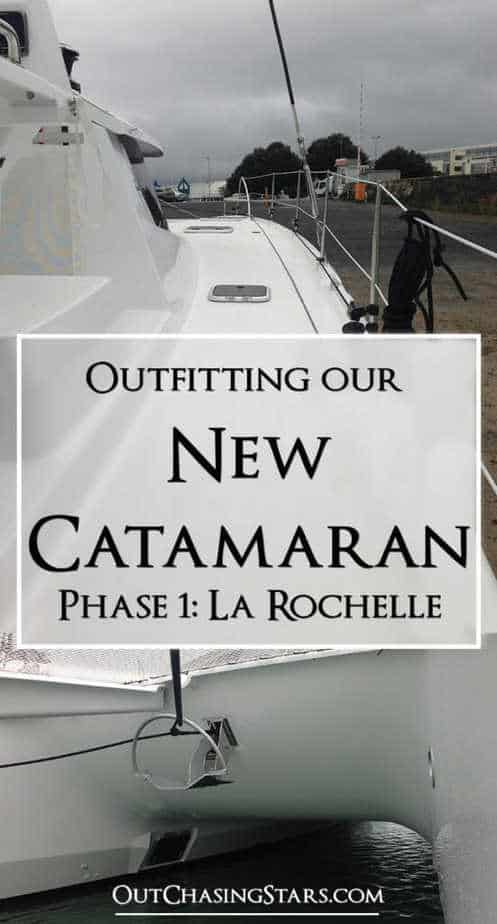 Social Share