THIS POST MAY CONTAIN AFFILIATE LINKS. PLEASE READ OUR DISCLOSURE FOR MORE INFO.
This week has been very busy, with Uchimata onboard doing work and us working on our own projects.
Monday (November 17th) Uchimata came by to continue working on our projects. Primarily they worked on the fans and electronics. We also moved Starry Horizons from the FP dock to the professional's dock by Uchimata. Of course, my most exciting part of the day was when my new Kindle Paperwhite
arrived!
Tuesday (18th) Uchimata finished the electronics and worked on the watermaker, pad eyes (for the drogue) and fans. David installed our EPIRB by the door and I installed our personal AIS devices onto our PFDs.
Wednesday (19th) I went to the market to grocery shop. Uchimata and David worked on the boat. We had Incidence sails come and pick up our mainsail, in order to rig our square top. Fountaine Pajot doesn't offer this as an option, but we decided to install the rigging to make our lives a bit easier. We will try to make a video to explain it, cause it is a little complicated until you see it in action. Normally, you have to detach the halyard (line that pulls the mainsail up) from the head (top) of the sail, in order to get the sail to so all the way down. Incidence rigs a system that allows the head of the sail to pull away from the mast while it is being lowered, with out detaching anything. Incidences took the main sail off Starry Horizons and installed it back on the same day! While the main sail was gone and over lunch, we took Starry Horizons out to test the autopilot. We did use our Genoa and sailed for a bit (France gets a 2-hour lunch). In the afternoon, one of the most trying projects was cutting a section of our anchor chain. We have two anchor chains (or rodes), one is super long (100 meters) and the other was 30 meters. We cut 6 meters off the secondary chain to use as a weight for our drogue. It took us probably a good hour to cut that anchor chain between the two of us!
Thursday (20th) David got Little Dipper (our dingy) squared away by putting in the oil and gasoline required. We went for a little test cruise after dark!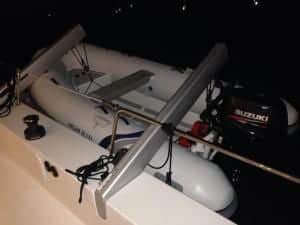 Friday (the 21st) we beached the boat! It was pretty cool. We got up at 3:30 am to motor Starry Horizons the short trip to the ramp. We puttered very slowly over, and as soon as we felt her hit the ramp, we put her in gentle forward gear and sat there until the tide dropped enough that we felt comfortable. We turned the engines off and waited. I went to nap and David stayed up and hung out on deck. Eventually, the water had receded enough that we dropped our swim ladder down, and it was a big step up to reach the bottom rung from the ground. Uchimata came and installed our folding propellers, as well as fixed some gel coat chips (sure enough that Sanya did damage our hull). I learned how to do eyesplices thanks to this video, and we got our jacklines squared away. Our jacklines are three dyneema lines, each line has an eye splice at each end. One side is luggage tag tied to either a cleat or a padeye, and the other eye is lashed to another cleat or padeye (lashings is looping over and over again and then knoting it down). One line runs down each side of the boat, and then one line runs across the bow of the boat. During passages, we will use a tether between our PFDs (which are spinlock auto-inflating deckvests) and the jacklines. This is just in case something were to happen and one of us falls overboard – we would still be attached to the boat.
Saturday (22nd) we spent most of our time putting stuff away. We cut bed slats for our two guest beds. Underneath each bed, we have bed slats to promote air flow around the beds to keep them dry and mildew-free. The slats come a standard length, and we had to cut them down with a hand saw to fit our not-so-standard beds.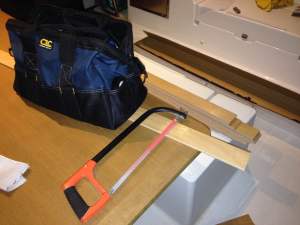 Today (Sunday the 23rd) we started the morning off by going for a sail! We woke up to a balmy 57 degrees, that warmed up to the 60s while we were out. We sailed for a few hours and then came back in. After that, have been reviewing the weather forecast and working to get the boat ready to leave. We are hoping to get two things done tomorrow. 1) get our watermaker running. It is fully installed, but the high pressure pump is not turning on, so that needs to be checked out. 2) Our digital multicontrol (a switch that runs our inventor) had a part broke off and our inverter is perpetually on. Hopefully we can get that fixed. We have been going through a departure checklist we created based off of other cruiser's checklists that we found online. Over time we will modify it to fit our needs to ensure we do everything we need before departing. You can view our list here, which we keep up to date.
When not working on small boat projects, I have been playing around in the kitchen. On Wednesday I picked up a rotisserie chicken at the market and stripped the meat off of it. I used the carcass to make broth, and then soup out of the broth and scraps. I tested out our oven that night and made salmon with a balsamic honey glaze, with roasted green beans and rice. I made dough on Thursday following Artisan Bread in Five Minutes a Day
. The bread was trickier, and I attempted to make a loaf Thursday night, but the temperature didn't get hot enough, so it was very dense bread. I tried again on Friday night, and the bread came out much better after baking twice as long. Saturday night dinner was roasted apples, carrots and potatoes with pork chops and dinner tonight was spaghetti with a light cream sauce and roasted chicken (tetrazinni inspired) and sauteed cabbage. We are not suffering!
Social Share