THIS POST MAY CONTAIN AFFILIATE LINKS. PLEASE READ OUR DISCLOSURE FOR MORE INFO.
We left Paris Monday afternoon after a leisurely morning, consisting of breakfast and showers. Our train getting to Amsterdam was delayed slightly, so we had lunch in the station. The train ride was a little over 3 hours long, and it was on Thalys instead of the French train system, SNCF. Thalys trains come with wifi and plugs on board. The wifi was really slow, but I did realize that I could iMessage friends back home using my iPhone, so I spent some nice time iMessaging with Carlanna!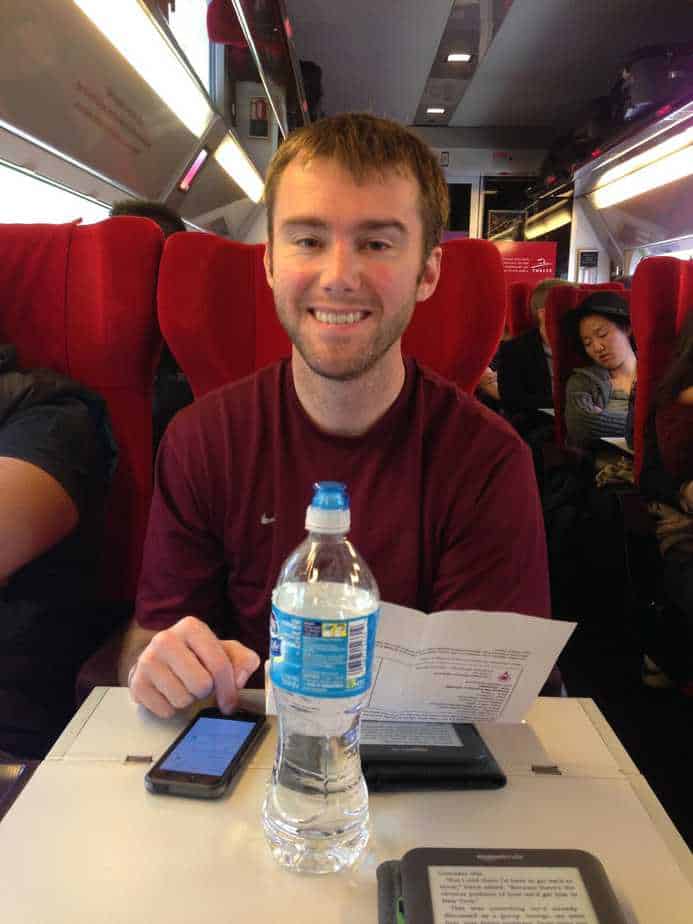 In retrospect, we should have done the trains a bit differently. If we had solid plans for travel, we should have bought our train tickets while still in the US. I learned a couple things while trying to book our train. I did not know that Eurail passes were created specifically for non-EU residents and that not all trains accept etickets. Typically you order a rail pass and it is mailed to you in the states before you leave.
Ideally, we should have bought a RailPass of some kind, probably the France-Benelux pass, would have given us 5-10 travel days in France, Belguim, The Netherlands, and Luxemburg. That would include travel within France, so our first day of travel could have been our train from Paris to La Rochelle. The Eurail pass would have saved us about 50% of the cost of buying individual train tickets.
Regardless, we made it to Amsterdam. For most of our accommodations we have been using AirBnB. I have used it several times in the states and have had great experiences. Not only can it be cheaper than a hotel, but you can also have a host who can show you around and give you recommendations. Our experience in La Rochelle was our first international one. While it was very cheap, it was a little cramped for us, so we are staying in a bigger place next time around. In Paris we stayed with my cousins. Now, in Amsterdam, we are staying in a private apartment, so we are not sharing common areas with our host. See our apartment here!
We checked in and then took a quick run to the grocery store around the corner – with another benefit of the AirBnB being that we can cook for ourselves to save money. We grabbed breakfast foods (eggs, bacon, baguette, jam, and juice) and enough to cook one meal.
After dropping those items off at the apartment we went for a short walk to find dinner, where we ate at a place called Dapper. I had an organic steak with chimichurri, but I'm not sure what cut of meat it was. In general in Europe, they don't eat the same cuts as Americans do (for example, Vishnu told me chicken breasts are seen as less desirable because they lack the flavor of the rest of chicken – I agree!). I also had a side of grilled vegetables, and David had "cajun style" chicken with bbq sauce and fries.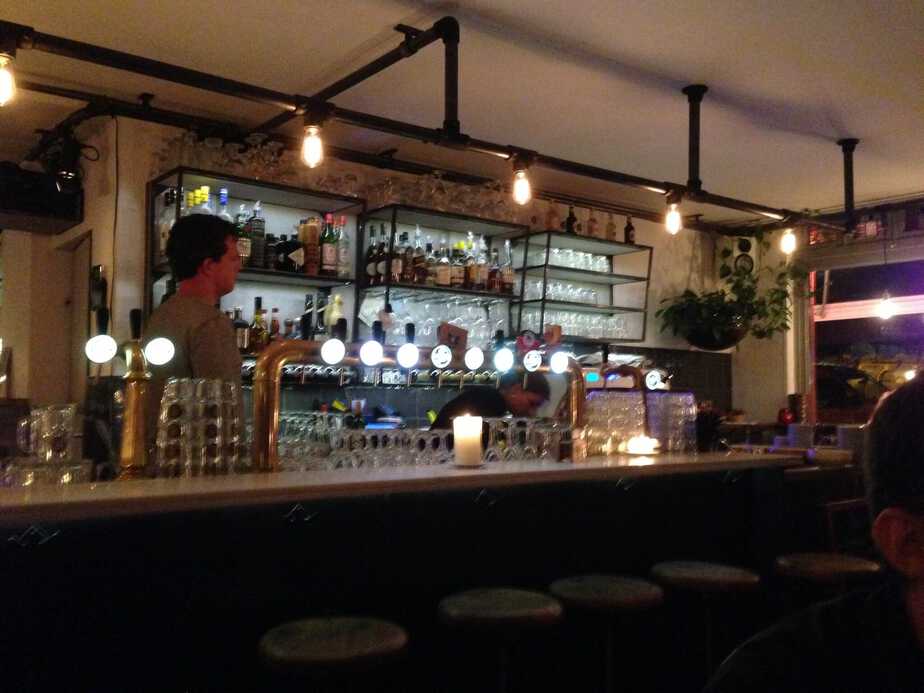 We walked more after dinner but not too far since we don't know the area well yet. The canals are beautiful and bikes are everywhere!
Today (Tuesday) was forecasted to rain all day today, so we decided to make it a lazy, stay-in day. David has acquired a list of supplies another Helia ordered from Accastillage Diffusion (AD) chandlery, and has used that as a start to our order with AD. He has been combing through the list (which took most of the day), translating it to English and then trying to decide if that is something we already have or something we even want.
I cooked breakfast! Another thing about shopping in Europe is that the eggs are different. They are not washed or treated, so they do not need to be refridgerated. This is not uncommon in other parts of the world, and makes keeping eggs on a boat without refridgeration easier.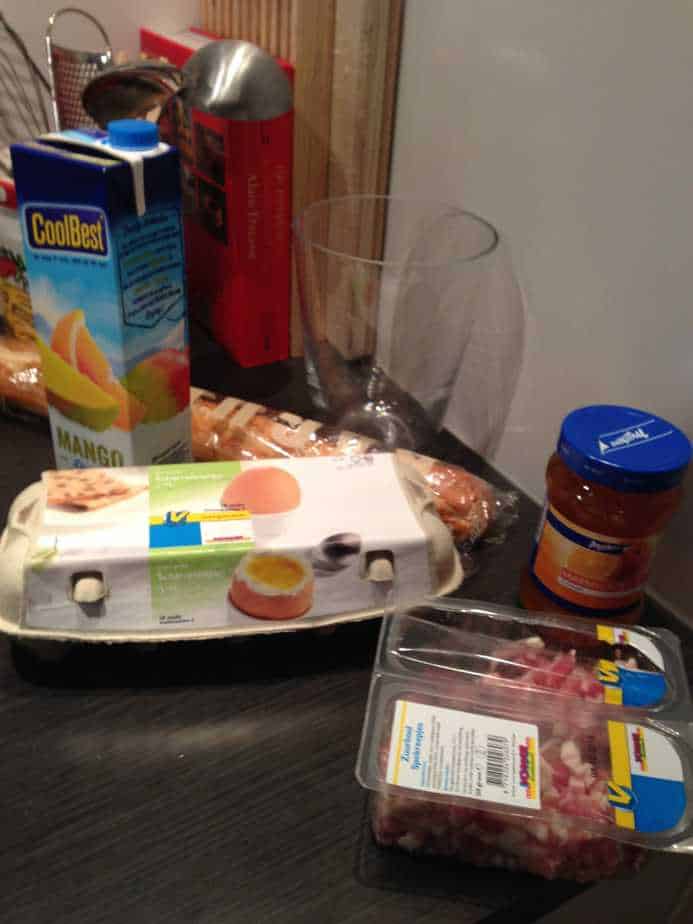 I have been lounging mostly, but I did go over the provisioning list that I have been working on and added a column for French translations. I will have this list with me when I start shopping in La Rochelle (Monday) so that I can identify or ask for help if I need it. The list is not a firm list. For example, I have canned pineapples and mandarin oranges listed, but really I'm just looking for any canned fruit we can keep onboard. Ditto with dried fruit. I have also listed out a lot of produce, but that's more so that I have the French vocabulary written down.
One thing I was pondering today was meat. As apparent by our French breakfasts that we have been having (bread and jam), meat is not a part of as many meals as it would be for Americans. In fact, an article popped up on my Facebook timeline today; "According to the Food and Agriculture Organization, Americans….eat 265 pounds of meat per person per year. Compare that to the global average of 92 pounds per person per year."
My cooking formula lately (when I am eating wheat I feel is right for me) has been protein, plus two different colored vegetables, perhaps a condiment or sauce, and a carbohydrate heavy item for David. That is definitely not a meal that is common around here. One bit of advice I have heard with provisioning is that you are going to eat the same things you normally do, with some exceptions, so don't go buying a whole bunch of stuff you might not eat, just because it's "boat friendly". It will be interesting to see how provisioning goes for us.
I cooked dinner tonight, which was pork, asparagus, and a pre-made side of potatoes, gravy and red cabbage. I had to use google translate to understand the cooking instructions, and google translate had some fun with it: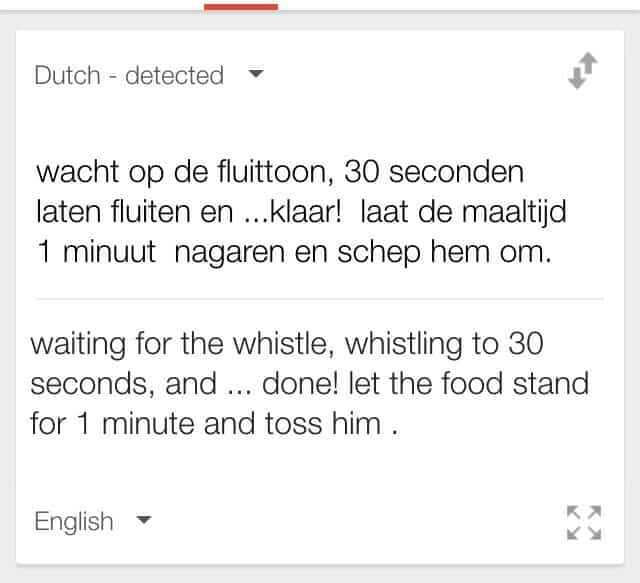 Tomorrow's plans are to get out and see Amsterdam! We plan on starting with the museums, probably the Anne Frank house first, then the Van Gogh museum and if we have time the Rijksmuseum. It is supposed to be raining again in the morning, but after that just windy and cold. It's a good thing we packed winter clothes!
We have been really happy to have a lot of followers on our blog, twitter and facebook, and we are loving reading your comments and knowing that you are following along with us! Thanks so much!
Social Share