THIS POST MAY CONTAIN AFFILIATE LINKS. PLEASE READ OUR DISCLOSURE FOR MORE INFO.
We were super busy today doing boat stuff for people who don't even have a boat yet! We have been in Austin TX for a few days visiting family, but we have beeen working hard on boat things. David has been struggling through issues with the factory and Florida Yacht Group which are making things extremely uncertain right now, but Captain David will tell you all about that when things settle down hopefully.
As frustrating as things are being with the boat itself, it makes us very happy to make progress on things we do have control over. A lot of items are necessary no matter what happens, so we've been planning those things!
Things started last night as we discussed a list of things we would need to have shipped over to France prior to us arriving. That list includes:
-Safety Harnesses
-Outboard dingy motor
-Mantus anchor
-Cruise RO Watermaker
-Galley supplies
-Books
-Foulies
-Etc etc
We will have to make a complete list when we actually start the shipment. We divided up the work, some things for David to tackle and some things for me. There are items we are still acquiring and/or doing research on. We ordered several items:
a printer for the boat, paper and ink
a rolling cart for provisioning
French For Cruisers: The Boater's Complete Language Guide for French Waters

Emergency watermakers (they get their own post)
a headlamp
hand held GPS
TRX PRO Suspension Training Kit
– inspired by Rebecca of One Love and StrengthPLUS
I have also been creating a collection of pdfs of information printed off of noonsite.com which will be our digital cruising guides. A lot of hard copy cruising guides cover a wide range of places, most of which we will never go to. For now, we have downloaded the pages for all the ports we may get to, and have uploaded the pdf to Google Drive and made them available on our tablets offline. I also stored maps of La Rochelle this way, and some blog articles by other cruisers about the specific locations.
We laid out on our kitchen island some of the things we would be shipping over and met with Clay of Interconex, which is the company we are looking at using for shipping. Here's what all that mess looked like: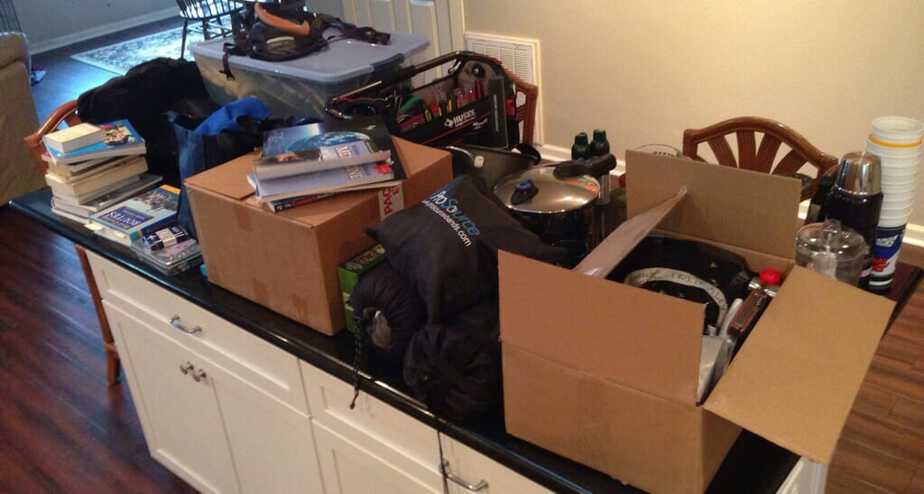 David also got a package in while we were gone – our Personal AISs, EPIRB, safety harnesses, and a hand held VHF. We tried on our harnesses, adjusted straps and wrote our info on them.
It's a lot of great progress and it makes us happy! Enough work for now! Time to tune out and think about something else!
Social Share