THIS POST MAY CONTAIN AFFILIATE LINKS. PLEASE READ OUR DISCLOSURE FOR MORE INFO.
This past weekend, Amy and I took a trip up to Seattle to visit family. I spent 16 years growing up in the Pacific Northwest and still have grandparents that live in Bellevue. Amy has a first cousin, once removed, on her dad's side of the family that lives in Seattle as well. It was a lot of fun to see everyone, and we even managed to take my grandparents to their first professional soccer game (Go Sounders!) and out on a dinner cruise. Always have to try and get new ideas from others in the industry!
My grandparents are big adventurers in their own right, having traveled extensively all around the world. And it was with their encouragement that I did a study abroad in college where I first caught the travel bug and visited as many countries in Europe as I could. When they heard about our sailing adventure, they were immediately interested and knew that others in their retirement community would be as well. Thus was set in motion our first ever "seminar" presentation.
My grandmother took on the role of chief promoter and worked to schedule a time and room for the presentation, and then spread the word to friends and posted announcements in the community. She even scheduled a pre-presentation get together with some other residents who had been sailors or around the water. It was great to meet others who had a wide array of experiences and they shared stories of their adventures and advice. Then it was time for us to present. Throughout our visit, we'd felt a bit like rockstars with all the people who came up to us, asking if we were the ones who were planning on sailing around the world, but we didn't know for sure how many people would come to hear us talk. Not to worry though, we estimated 50 people showed up, which was a packed house!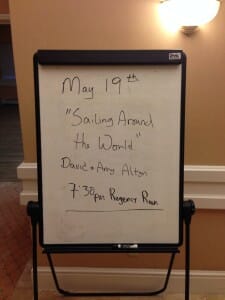 I had worked to put together a presentation with the theme of "Have You Ever Dreamed About Sailing Around the World?". I knew we'd be presenting to an audience with a very diverse background, some familiar with the sailing world and others not, so I tried to give a general overview of who we are, how Amy and I got started sailing and thinking about a trip like this, the boat we chose, and our potential route. I've never been a big fan of presentations with all words, so we used lots of pictures, and it was fun to see people's eyes light up as we talked about the various islands we'd be visiting, or their easy to read faces as we said the longest we'd sail without sight of land would be three weeks (Galapagos to the Marquesas).
There were lots of great questions for us, but my favorite moment of the evening was after the presentation was over and people came up to us, recounting time they had spent in some of the locations we hope to visit, or saying how they wished they could come with us. Lots of people said they'd follow along on our adventures, and having our new boat cards were very handy as we passed out several. We even spoke with the activities coordinator at the community who said she would work to provide updates on our trip to residents so they could follow us.
The whole evening was a great success, and Amy and I feel quite honored to have our first official fanclub, the Pacific Regent in Bellevue!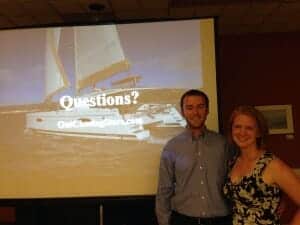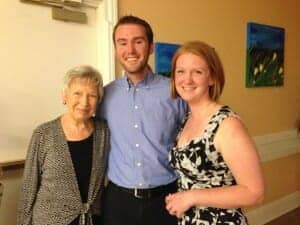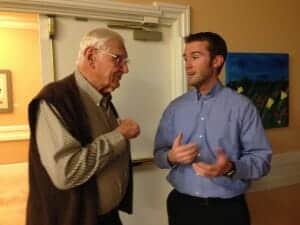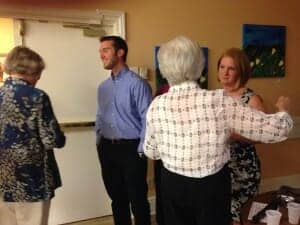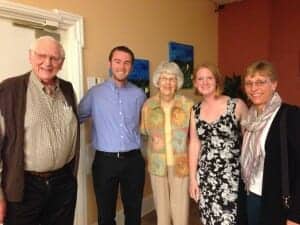 Social Share