THIS POST MAY CONTAIN AFFILIATE LINKS. PLEASE READ OUR DISCLOSURE FOR MORE INFO.
The biggest decision that Amy and I made in Miami was to stop pushing for Furuno electronics aboard Starry Horizons and instead move forward with installing Raymarine equipment on the boat. There were several reasons for this decision, but we wouldn't have made it had we not gotten an opportunity to chat with Raymarine at the show and get a chance to demo some of their newer options. Three of our boats at Star Fleet have Raymarine on board, so that gave me a comfortable base to start from, but I was impressed with some of the latest advances.
Raymarine Features
LightHouse II User Interface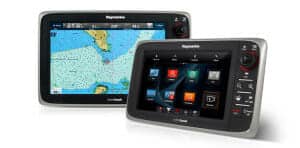 By going with Raymarine, we'll be able to install eSeries HybridTouch MFDs. These utilize a new user interface called LightHouse II and are a far cry from the old cSeries that we're used to using. The menu set ups are much more intuitive, allowing for significantly more options when it comes to setting up the home screen. Interacting with charts was fairly quick, and could be done by touch or using the rotary controller and keypad. Plus, Raymarine releases free updates that can be downloaded over the internet and uploaded to the MFD using a microSD card. That will come in quite handy when we're somewhere where we can download an update quickly, rather than waiting forever for a card to be shipped to us from the manufacturer.
GPX File Support
So this is perhaps not the sexiest reason ever, but it was something I was pretty excited about. I'm quite big into interconnectivity among our various systems, and one of the things I wanted to be able to do was plot out a route on a laptop, send it to our plotter and go. MaxSea integrated seamlessly with Furuno and was one of the reasons I was so interested in going that route. However, there is another chartplotter and navigation software package called OpenCPN that has been developed by active sailors and can be used for free. I have only a little experience playing around with it, and while it's not quite on the same level as MaxSea, it's an impressive program. And OpenCPN can save and load waypoints, tracks and layers using the GPX transfer format so we should be able to have a high level of interconnectivity with our Raymarine equipment, just like I wanted.
App Integration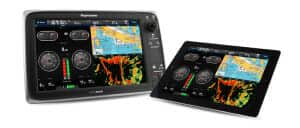 The eSeries MFDs have built-in WiFi, and while I will take some convincing that this will be a stable, reliable communication method, it does allow for some interesting possibilities. Raymarine has developed an app called RayControl that allows you to take your iPad and turn it into a full function MFD. You can remotely control and view all the functions of the MFD including charts, radar, sonar and even adjust menus. That is a pretty neat feature and essentially allow us to control our MFD from anywhere on the boat.
Raymarine has also worked with Navionics to integrate the Navionics Mobile App and allow for us to plan a trip on the Navionics App and then synchronize with the MFD wirelessly. I've downloaded the Navionics App to play around with it, and it's fairly straightforward and easy to use. It is not feature-laden enough to qualify as an independent plotter, but it will provide yet another backup for us, which I greatly appreciate.
Selecting Our Electronics
Chart Table in Main Salon
In the main salon we have our Vesper Marine AIS, our Fusion stereo, Standard Horizon VHF, Battery Management System, Phillipi monitoring system, external alarm amplifier, and a Raymarine autopilot control.
At The Helm
Our main chartplotter is a Raymarine e120 Multifunction Display. We have two I70 instrument displays, and an autopilot control. All that connects to our radar (up on the mast) and a Standard Horizon VHF.
Picking the navigation electronics for Starry Horizons wasn't an easy task, but now that it is done, I can start working on figuring out how the rest of our electronics will integrate. That means I can get back to the drawing board and rework my mock-up for our interior nav station. Fun times ahead for sure!
Social Share