THIS POST MAY CONTAIN AFFILIATE LINKS. PLEASE READ OUR DISCLOSURE FOR MORE INFO.
I'm going to take a bit of a break from all the Miami related posts and talk about something equally as exciting. Amy and I are currently up in Fort Worth, TX so she can run her 8th marathon, and as it just so happens the couple who own Let It Be, Helia hull #4 live nearby in Coppell. So we had to meet up!
Frank and Mary Grace were kind enough to suggest some local restaurants and then drive to meet us. We spent several hours talking about boats, travel plans and life on the water. Let It Be is in charter with Tortola Marine Management in the BVI's (anyone looking to charter a Helia should check them out) and Frank and Mary Grace have spent several weeks on board, and thus have lots more experience than we do with the Helia.
They had lots of ideas for us about different equipment on board and valuable tips on how they've set up their boat to make sailing a bit easier. And they're lucky enough to be traveling back to Let It Be in a couple weeks. We have to wait months before we can get on Starry Horizons!
Thanks again for the great night guys and we can't wait to meet up with you again on the water!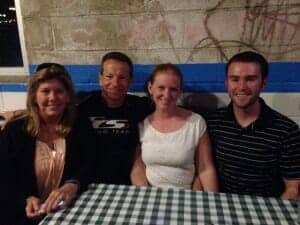 Social Share