***Side note: today, June 16th, SHT (that's Starry Horizons Time) is David's birthday! Wish him a happy 33rd! Our plans are a quiet pizza and movie night.***
After a short flight to Honolulu, we got settled into our place in Waikiki. We didn't have big plans for the next few days, except our one goal: Pearl Harbor.
The biggest thing to see is the USS Arizona Memorial. The Arizona was bombed December 7, 1941, and shortly after the US entered WWII. It's also the only part of Pearl Harbor where you need a time slot to visit, as it requires a short boat ride. Tickets go up two months in advance, and then some additional tickets are released at 7 am the day prior. Lucky for us, 1,300 tickets are also released that morning for walk-ins. David and I got in line behind at least five hundred people. And, amazingly, I think because we were just two people and there were many families, we got tickets on the 7:45 am boat.
Before the ride, we watched a 20-minute video talking about the history of Pearl Harbor. The highlights of the video were the actual footage in both Pearl Harbor and Japan. It was witnessing history as it actually happened that was most amazing.
The memorial was stunning. It was beautiful to see and stand over the remains of the Arizona, which also serves as the tomb for the sailors who died aboard. Additionally, the surviving service men who were stationed on the Arizona are interred in the wreck as they pass away, bringing the crewmen back together.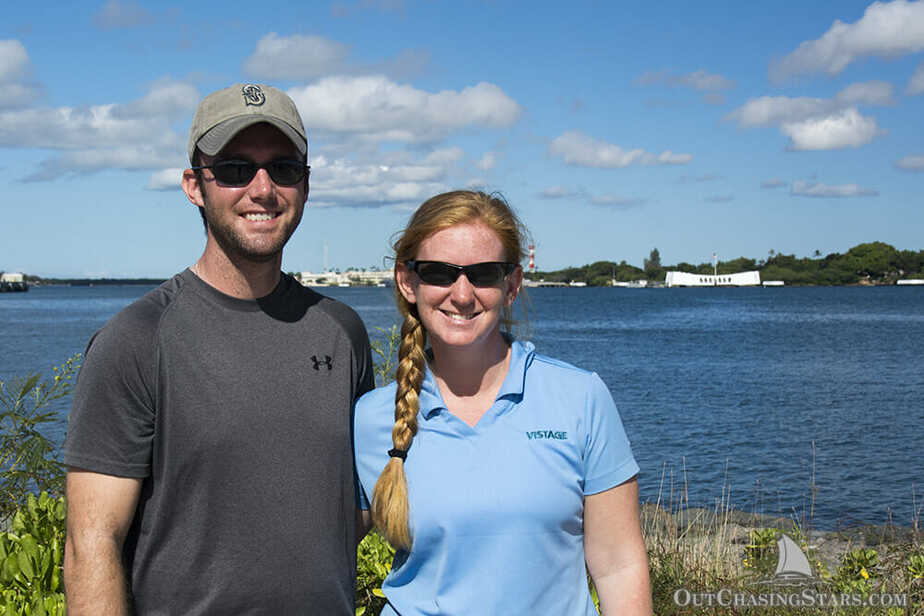 Back at the main site, we went through the Valor Museum, viewing memorabilia and learning even more about the causes and events of World War II in the Pacific.
We skipped the submarine and the air museum, since we've seen really similar things before, and took the shuttle to the USS Missouri. The Missouri was the last battleship ever built in the US, and is also the location of the Japanese surrender to the Allies. We took the guided tour around the deck and learned a ton about her, as well as stood right where the surrender was signed.
Inside the vessel, there are exhibits on certain aspects of the war. I felt the most impact by learning about the "Kamakazi" fighters in the Japanese military. They even had letters from the pilots, and it was harrowing to read the letters written by these young men to their parents or finances, knowing they are going to die.
The Missouri actually had a part of the deck called the Kamakazi deck. She survived an attempted Kamakazi attack, and the Japanese pilot who died after the crash was given a burial at sea with full honors by the crew of the Missouri. A baker with excellent timing and a camera caught photos of the plane grazing the decks moments before the crash.
All that took us over four hours. You can spend so much time at Pearl Harbor, and I'm so glad we did. It seems to me that I know so much more about the war in Europe than I know about the war in the Pacific, and I learned massive amounts while touring the museums.
During our stay in Waikiki we had two fantastic dinners worth mentioning. One afternoon we walked along the beach, enjoying the people watching on the beach, seeing the boats out sailing, and watching the surfers. Then we had dinner at Tiki's, with a pretty decent view of the sunset and the Friday night fireworks show. (Boy, let me tell you, we were so spoiled back in Kemah with the amazing fireworks show put on by the Kemah Boardwalk and our fantastic view from our roof). Our last night, we had dinner at the Top of Waikiki restaurant, and afterwards we walked along the tiki-torch lit boardwalk and found the Pan Pacific Festival, where we watched dancers compete in a hula competition. Then, we went to Leonard's for one last malasada.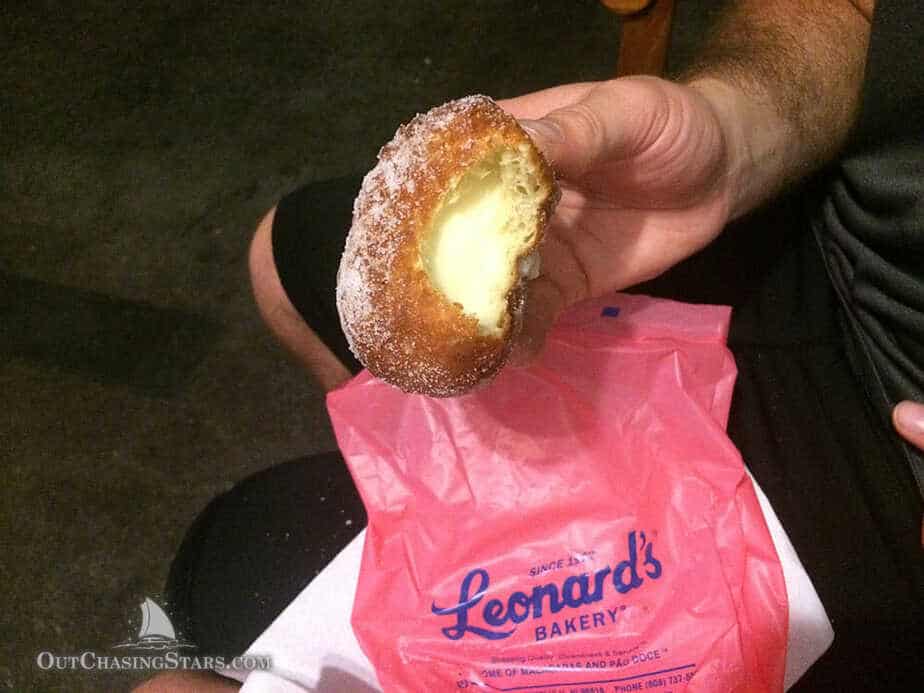 Other than that our time in Oahu was running errands. David and I both saw doctors. We picked up packages. We applied for new TWIC cards since ours our expiring this year and they are a requirement for renewing our USCG license. We made one last trip to West Marine. I got a hair cut!
Then, we boarded our 2:50 am flight direct to Nadi. Shockingly, we managed to fit everything into two large checked bags and two boxes (for big boat parts…). Each checked item ended up weighing almost exactly 23 kgs – the limit. As I described in a previous post, there's only one flight a week direct to Nadi. Then from Nadi there are two flights a week to Vava'u, so we ended up spending two nights at a layover in Fiji. David worked on a video, and I read and wrote, mostly by the pool. We stayed at the Oasis Palms Resort, a short ride to the airport with a fantastic restaurant. And it was cheap!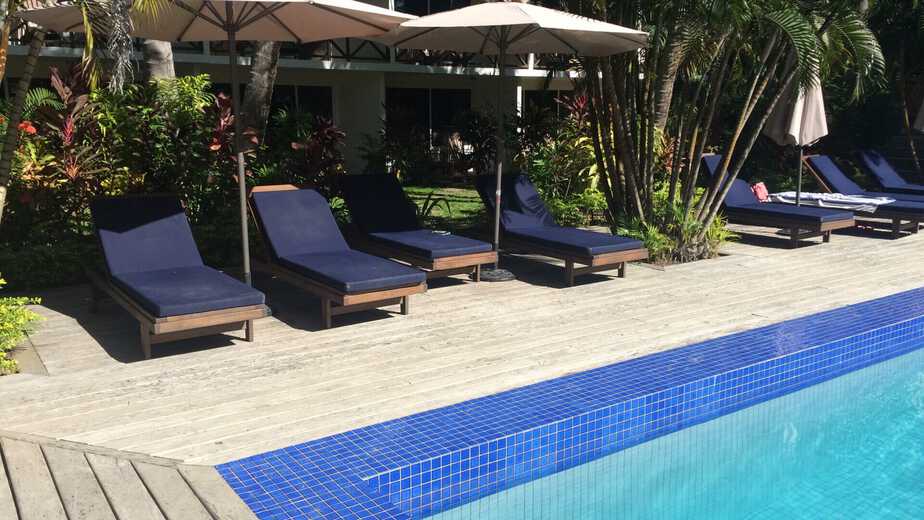 We had a much harder time getting on our second flight. Fiji Airways was concerned about our letter, because we had an approximate date in the letter and it had been stamped when we left Tonga. It's understandable; they said that Tonga is not consistent with their rules, and they don't want to get fined. They also told us two of our checked bags would have to fly on standby – they would only get on if there was enough room. We opted to send the bags with most of our clothes standby and prioritize getting our boat parts to Tonga. Then, we had another issue. As I was going through security with my carry on bag, they told us we could not bring rope on the plane. I ran back, planning to check that bag only to find our standby bags were moving down the conveyor belt, so the staff helped me grab the bag and quickly swap out some items.
Whew! It was hectic and we made it to the gate with just enough time for breakfast and some duty free shopping before we boarded. It's a good policy to always pick up liquor in duty free – in places like the South Pacific, you can save almost $100 a bottle. The gate attendant (the same lady who checked us in) told us there was room for our standby bags as we boarded. Yay!
The last hurdle was getting into Vava'u. They took our letter, we paid our fees, and we were in – just one thing. We have to leave the boxes of boat parts behind for customs. We were told to go to the customs office at the wharf to pick them up that afternoon.
Our friend Kjell picked us up and took us to the dock. We were able to bum a lift out to the boat. Starry Horizons was floating happily on her mooring ball, very happy to see us! That afternoon we had no trouble picking up the boxes. As they were appropriately labeled for a yacht in transit and we had a receipt showing $0 value, we didn't have to pay anything. More on the boat parts later…
We noticed on this trip that we've lost our tan lines. Between visiting home, road tripping around New Zealand, and our time on S/V Julia, we've spent a mere 47 nights out of the 165 this year on Starry Horizons. Spending most of our time away from the boat, losing our tan lines…can we really call ourselves cruisers?
Well that's debatable, but I do know that we are most assuredly travelers. I'm very proud of what we've seen and done so far this year. But for right now, I'm very glad to be home!
Social Share