After leaving Anegada, we aimed for the west part of Virgin Gorda. Our original plans were to spend the night in Long Bay, but when we arrived it was a little crowded, with a 50-something foot Privilege catamaran and two private yachts. We were quite sure what the bottom was underneath us, and so we decided to pass and head to Savannah Bay instead. We very cautiously entered Savannah Bay, as it's a reef-surrounded bay, with a narrow inlet. We were all alone.
For some reason as soon as we were settled, two more boats joined us. One was a catamaran that stayed through the night. The other was one of the private yachts we'd seen in Long Bay, Lionshare, and they pulled in VERY close to shore, anchored for about 10 minutes, and pulled out again. Weird.
As always, I snorkeled the anchor to check its settings and our surroundings. We slept very peacefully that night.
On Thursday, we woke up early to head over to the Baths. If you are not familiar with it, the Baths are giant rocks on the beach that have created caves and pathways. It's a major tourist attraction here. We picked up our Parks mooring in Spring Bay by 8:30, and quickly got in the water, with just our go pro and sunglasses. We swam up to Spring Bay, took a walk around the trails there, and then swam around to the Baths. We quickly got ahead of a tour group, and entered into the Baths.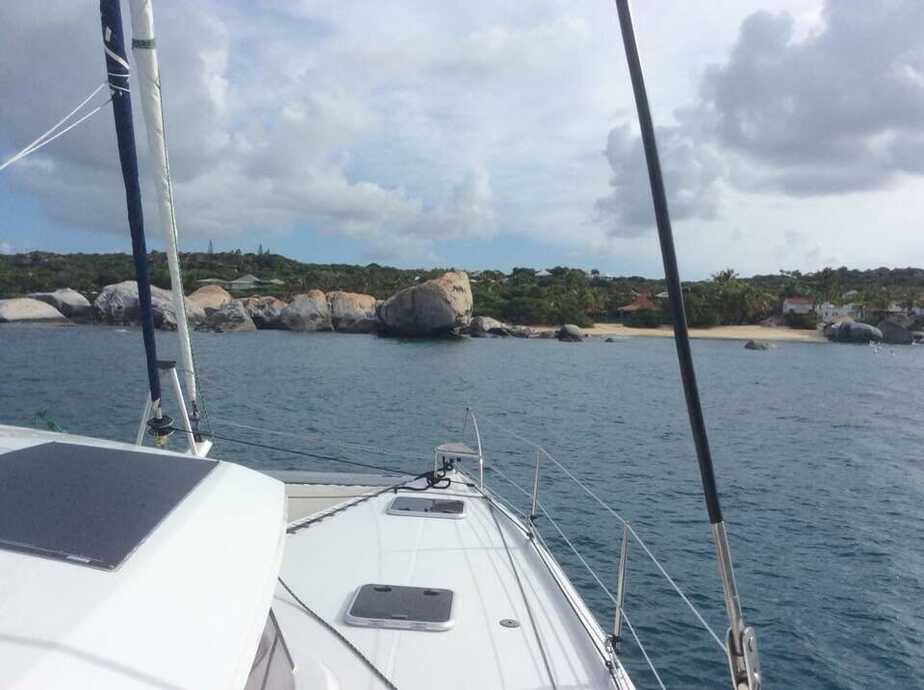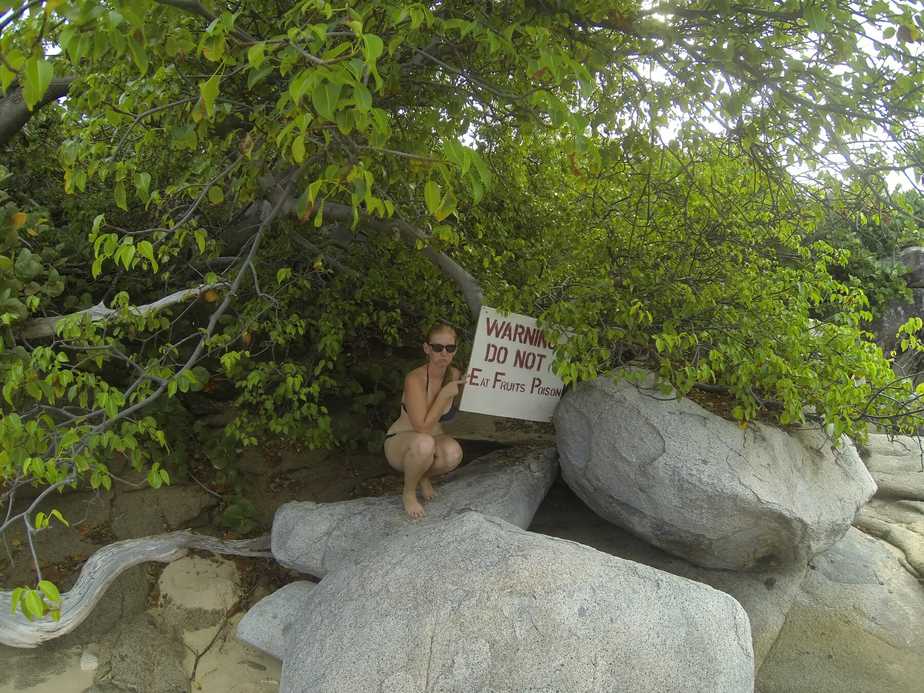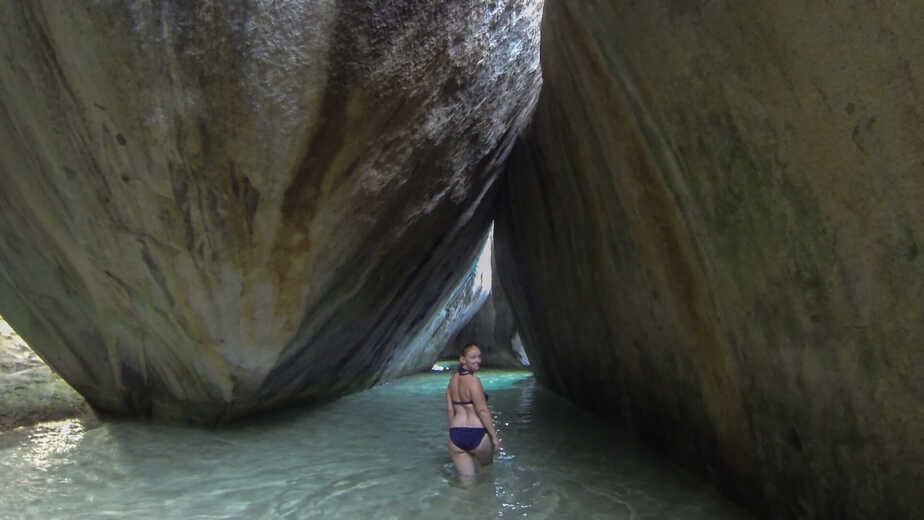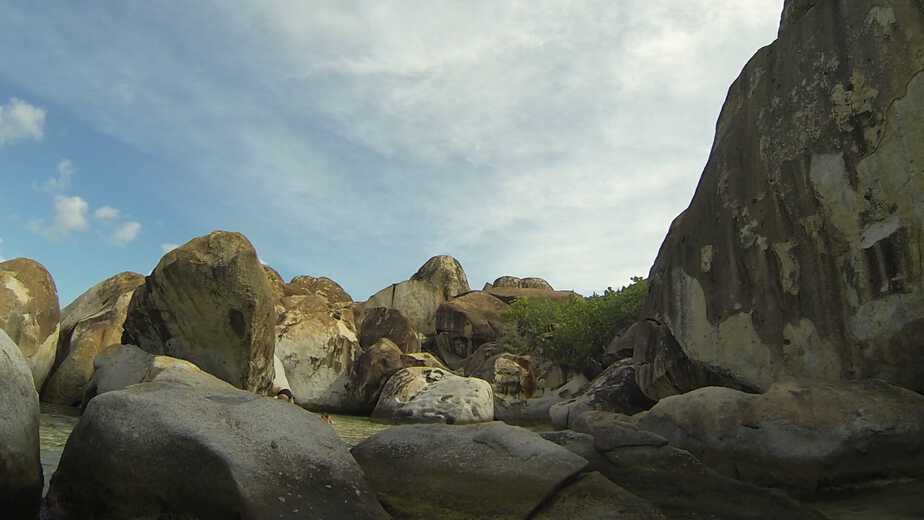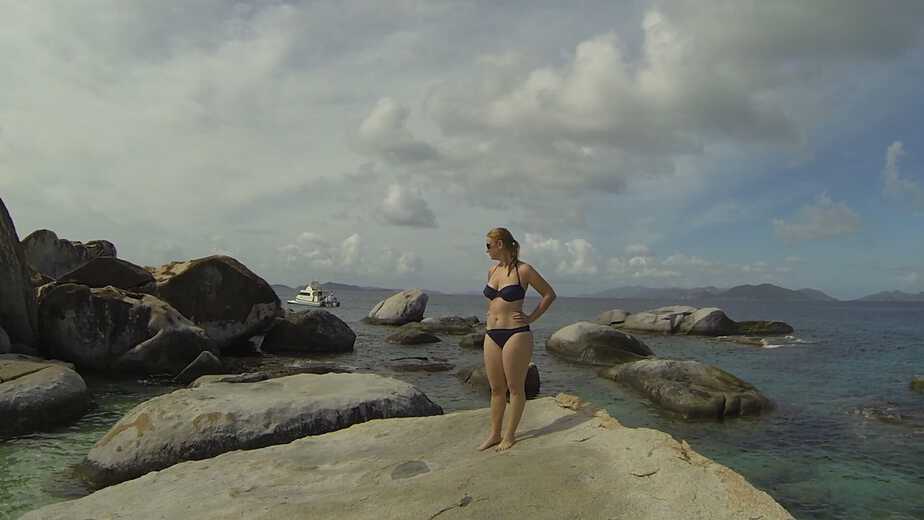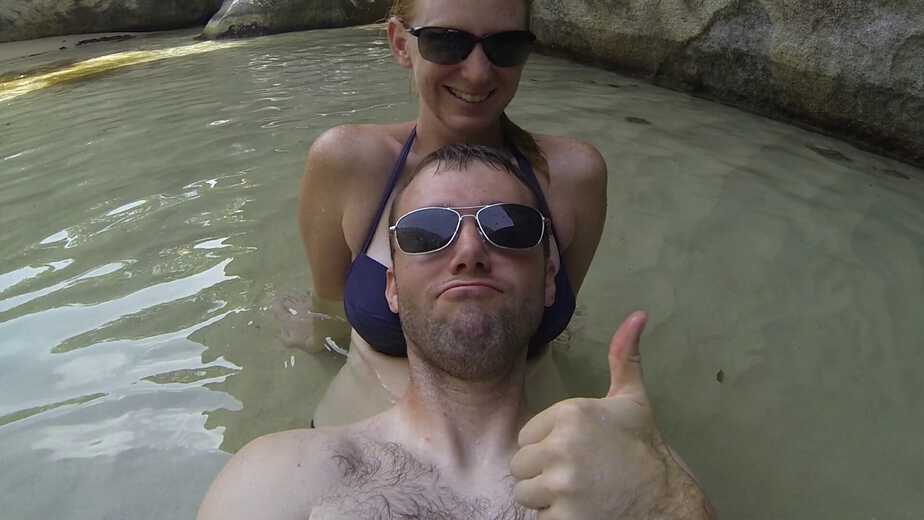 There is a trail through the Baths that leads all the way through to Devil's Bay. Of course, the whole thing is spectalular. By the time we were through and turned around to head back, it was getting much more crowded.
Back on Starry Horizons we finished up a few internet things and dropped our mooring, headed to Salt Island Bay to stay the night. After snorkeling the anchor I stayed in the water and checked out the reef near shore. It was amazing! One of the things we've noticed in the BVIs is that the coral itself hasn't been that great – sadly due to the popularity of the area a lot of coral is suffering. Salt Island Bay was just off the beaten track enough that there was more life to the coral. I swam right next to the cliffs and was rewarded with spotting two octopi, an eel, a puffer fish, in addition to many cow fish, urchins, and parrotfish. One of the best snorkels I've had here.
Back on Starry Horizons David was pretty worn out, so he took a nap while I have our grill a long overdue cleaning. Before sunset I took Little Dipper over to the dock and walked the beach, enjoying the sunset.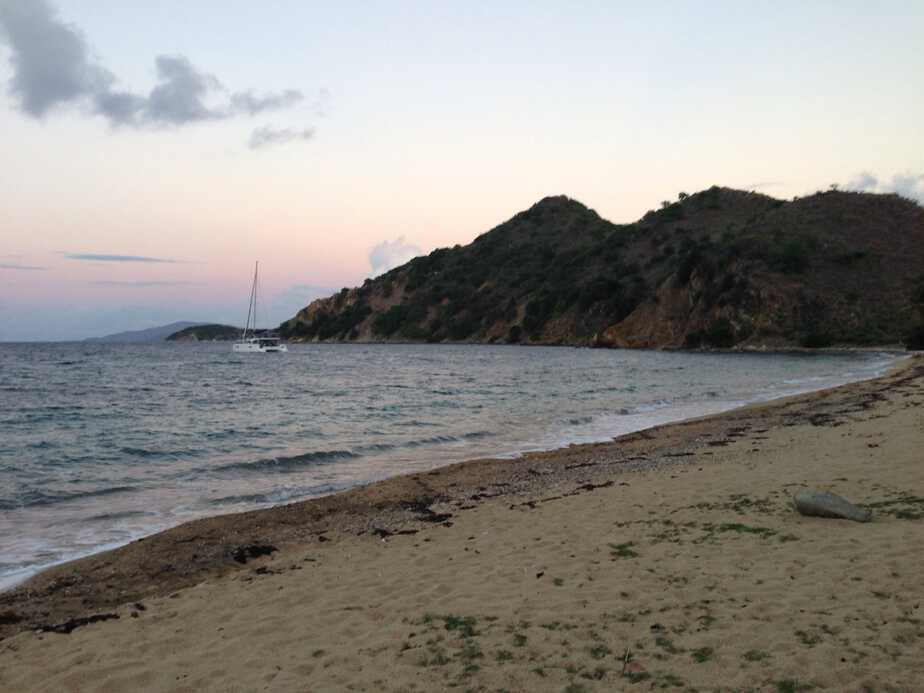 We picked Salt Island Bay for its close proximity to the Wreck of the Rhone. Another tourist attraction, this is one of the few wrecks that is in shallow enough water to snorkel, because the Rhone sits on the bottom in half; one half deep, one half shallow.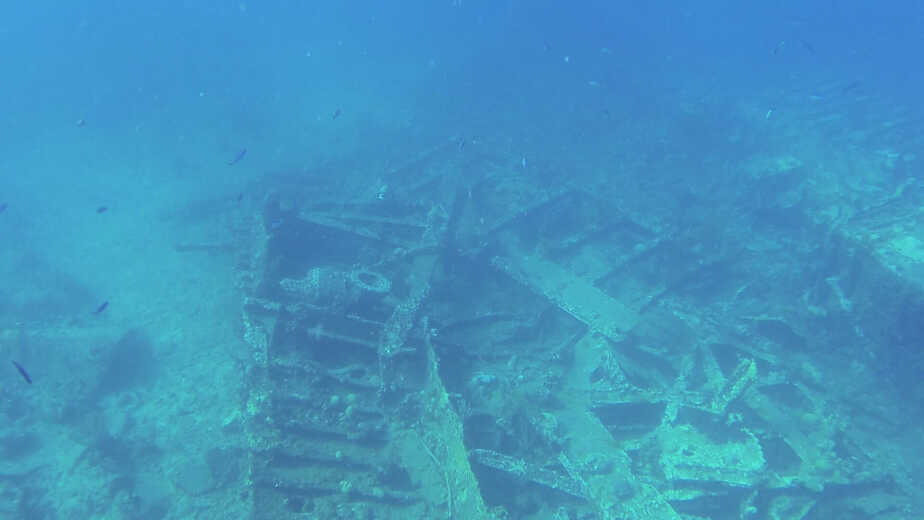 The wreck sits in about 30 feet of water like a skeleton, with nature slowly taking over.
The surrounding rocks also provide good coral and marine life for snorkeling, including seeing an octopus running around!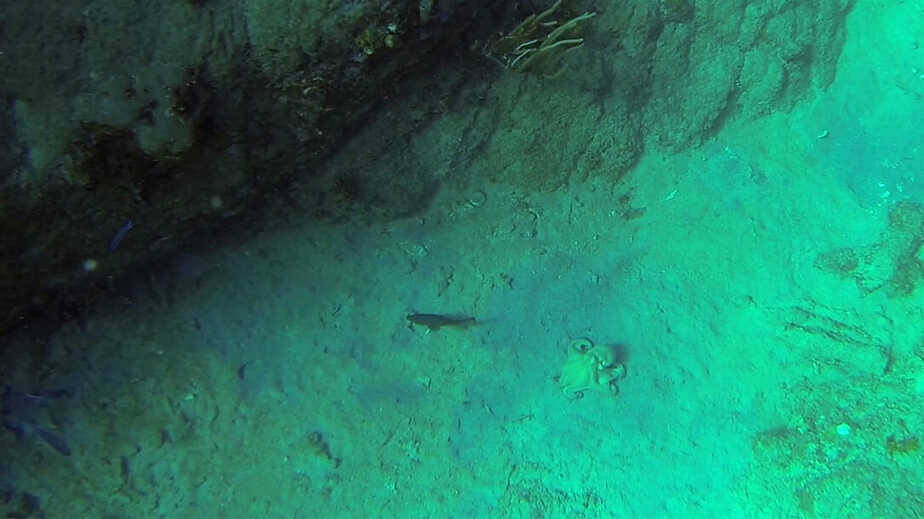 We dropped our mooring and left for our next destination – Deadman's Bay on Peter Island. We arrived in the late morning. Unfortunately we discovered two small issues: we'd accidentally left a line overboard as we left the mooring which got chopped by our rope cutters around our propellers, and the block on our stern dinghy davit broke. We didn't want to risk chafing the line through, so I inflated our kayak as an alternate means of transportation. I went ashore to use the wifi and have some lunch – every once and a while we need a bit of space from each other.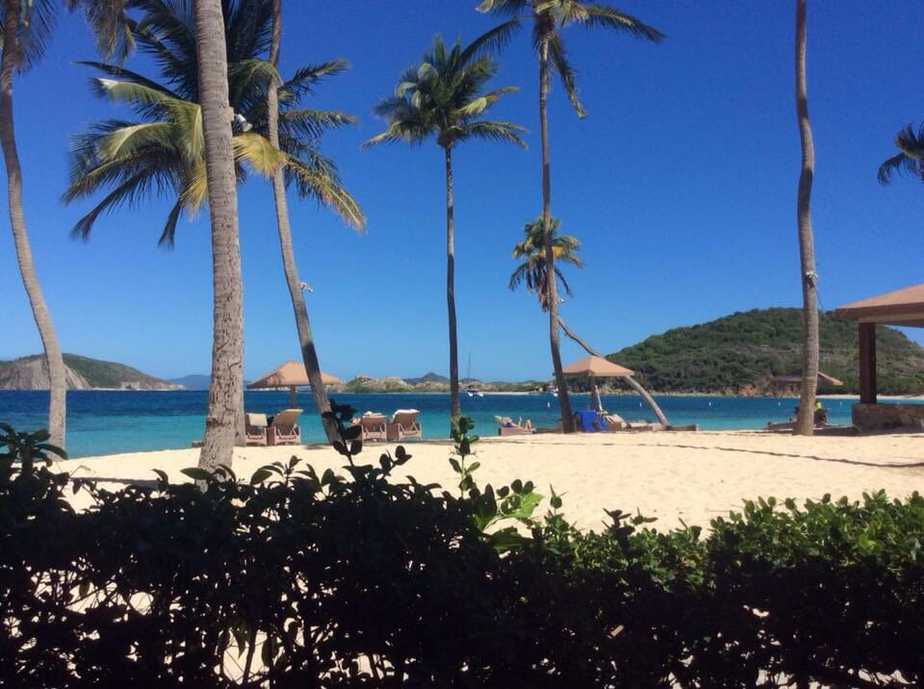 On my way back from lunch, I stopped to chat with the FP Sanya 57. The crew of Alive was without guests and offered a tour of the boat to me. I paddled back to Starry Horizons, grabbed David and some cold drinks and headed over to hang out with Alive's crew, Noam and Dalit.
In another great example of friends we met on our trip, Noam and Dalit were fascinating! This Israeli husband and wife team has crewed private and chartered boats. They gave us a tour and we sat around chatting for a while. Alive is beautiful, with 6 double cabins (five for guests) and is extremely well equipped for diving. Noam showed us the forepeck, which was immaculately organized with tanks, BCs, and regulators all hung up and organized. Noam is a dive master, and told us he wanted to get a trial run dive in before they had guests – would we be his guinea pigs? Hell yeah!
Saturday morning we were back on Alive at 8:30 for our briefing and gathering of gear. We loaded up their dinghy and went over to Deadman's Chest Island, to grab a Parks mooring and dive Dead Chest and the Painted Walls.
It was an amazing dive. Noam lead the way while Dalit stayed behind us. Noam knew, of course, that we'd both done our classes and certifications (David in Kemah and I in Tampa) but hadn't dived since then. It was so wonderful to have one on one attention for our first dive together. The walls were amazing, although I had to remind myself to look up at them instead of focusing on the sea floor or Noam. They get their name from the patches of colorful coral on the cliff faces.
We saw a lobster, pufferfish, and all the usual suspects. We also saw one lionfish. Noam and Dalit had come prepared with a spear gun. If you don't know, lionfish are indigenous to the Pacific, and are a major problem in the Caribbean as an invasive species. Thanks to a wide effort to encourage hunting them (plus they are tasty), their numbers are dwindling here. Unfortunately this one lived to see another day as he got away from Noam.
Just when you think we couldn't get spoiled by Dalit and Noam anymore, they cooked a massive brunch for the four of us, under the pretext of emptying out their fridge.
After brunch, we invited Noam and Dalit over for a tour of Starry Horizons. We had cleaned up the night before, because in getting the kayak out and searching for a part we had completely emptied one of our storage lockers, so equipment filled our cockpit. We always enjoy showing our girl off, and it was fun talking about the similarities and differences between the two FPs.
Alive departed later that afternoon for Nanny Cay. They are doing a haul out too, so we will definitely get to see them again.
David and I took a nap that afternoon, as we had more plans for the day! Just as the sun went behind Peter Island, we kayaked to the beach and went to walk the Sunset Loop. The hike goes up and up, providing us with stellar views. It's not for the faint of heart – think heavy breathing and screaming legs, but the views were so worth it. We were able to look down on Deadman's Bay, White Bay, the resort, the spa (where a wedding was taking place) and we passed several of the private residences that are part of the Peter Island Resort. We caught sunset just over White Bay.
The trail continued on, but it was getting dark. Someday we will have to come back and do the whole thing – with a picnic dinner!
Sunday we stayed in Deadman's Bay for a bit. I went for a snorkel, which was ok, but I did see a lot of cuttlefish. After lunch, we upped our anchor and moved over to the Indians. The Indians is a rock formation just off of Norman Island. The wild life is pretty spectacular there, even just snorkeling under your boat at the mooring gives you lots to see.
After we were done snorkeling we left for Nanny Cay. We arrived at 4:30 and after we checked in and moved to the back we were immediately hauled out (early – we were scheduled for Monday at 7 am but the last boat on the schedule last night was a no-show). So, we aren't sure how long we are going to be staying here in Nanny Cay, but we've got our work cut out for us!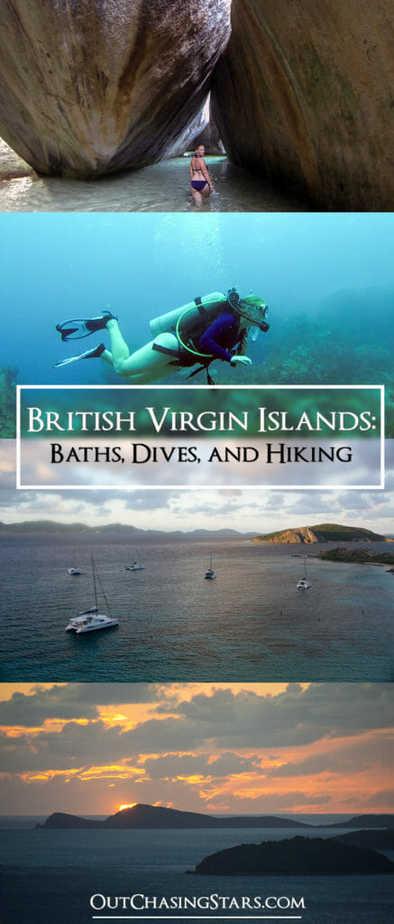 Social Share