David and I had a wonderful time in Ile de Re…but we did not have good internet, which is why our posts are delayed.
We spent all day on the 24th on trains, from Amsterdam to Paris and then transferring train stations to take our train to La Rochelle. We did AirBnB again, and our host offered (for a charge) to pick us up from the train station and bring us in. The apartment was her guest house, so she was right next door. The house was in a very rustic part of Sainte-Marie-de-Re, where the streets are cobbled, and it actually looks like it should be on the Mediterranean, with the tiled roofs and backyard gardens. We immediately had dinner at Creperie Les Tilleuls, and I had my favorite gallette so far – duck and roasted apples with caramel and pineau (a liquor). The duck was delicious! David enjoyed a pizza. The restaurant was in an old house, and focused on local seafood. It was very nautical.
The big thing on the island Ile de Re is biking. Everyone bikes everywhere, because the island is quite big, and cars can not get as many places due to narrow streets. So in the morning, after pastries for breakfast, we rented bikes, and started out by biking to the beach to take the Atlantic in! The beach was at low tide and is very expansive. We spent a lot of time walking around and checking out the fish locks. Fish locks are man-made, u-shaped lagoons that fill with water at high tide. When the tide rushes out, the only escape in the bowl of the u is a gate, that is too small for big fish to get through, so they become trapped in the small pool in the u. I have pointed them out in this Google earth picture: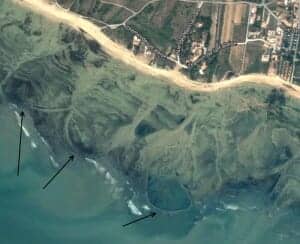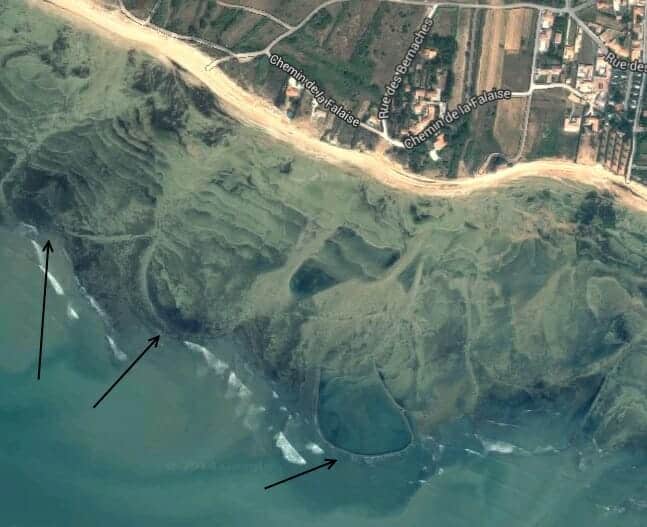 There were people catching the fish, as well as hunting for crabs (we think). We also saw shrimp and signs of clams.
From there we biked to the center of Sainte-Marie-de-Re and had lunch at Chai Pepette (roast beef, green beans, and potatoes). Then it was onward to Saint-Martin-de-Re, the largest city on Ile de Re. The ride was wonderful, with either forest or vineyards on both sides. We were so lucky to have such wonderful weather too!
Saint-Martin is known for the fortification and citadel (which by the way held the Brits off in 1627). The city is a UNESCO World Heritage site, and it is a lot like La Rochelle, but smaller. We parked our bikes at the beginning of the citadel, and walked into town. The town is based around the harbor, and the waterfront is lined with small cafes. We picked up some ice cream (not as good as Ernest le glacier in La Rochelle) and then biked back. It was a lot of biking!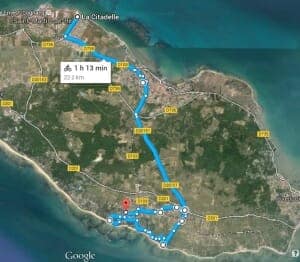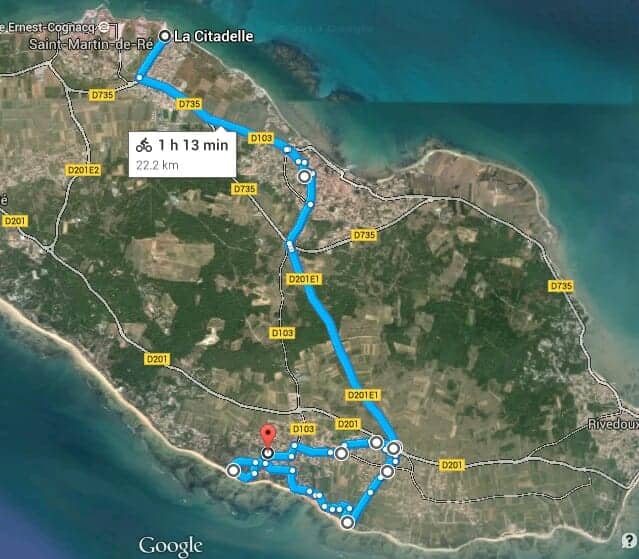 Sunday the 26th, our host took us back to La Rochelle. We have enjoyed our travel, but are glad to get settled into one place for a couple of weeks. Our new AirBnB place is great! We are right in the middle of town.
Today, the 27th, we started the morning by grocery shopping, first at Carrefour City, which is a small supermarket in town, and then we went to more of a farmer's market style area. We meet up with David's parents at noon and had some lunch nearby. David's parents, Jan and Brian, have been driving around France for about week, so they have explored a lot of countryside. We took them over to Minimes, to see the other Helias (4 at the FP dock), and then we ran some errands – to Uchimata to chat with Pierre and pick up some items, and then to Accastillage Diffusion, which is a chandliery in La Rochelle where we are ordering some items. Jan and Brian also took us to a different Carrefour, one that is more like a Super Walmart or something. It has EVERYTHING! We didn't buy much, but we checked out a lot of items we are going to buy once we move on board.
Finally, we had a wonderful Thai dinner and split up. Plans for tomorrow are the La Rochelle Aquarium, and then the much anticipated factory tour at Fountaine Pajot!
Social Share